Name: Duna-Korzó
Category: Architecture, castles and historic districts
Location: 1051 Budapest, Duna-korzó
Description
If you want to breathe in a good deal of Budapest as keepsake but have no time to see all of the city, take a stroll on Duna-korzó, a promenade by river Danube. Turn your head to both sides, Buda and Pest, and take your time to check out the sights by the second longest river in Europe while enjoying the fresh air.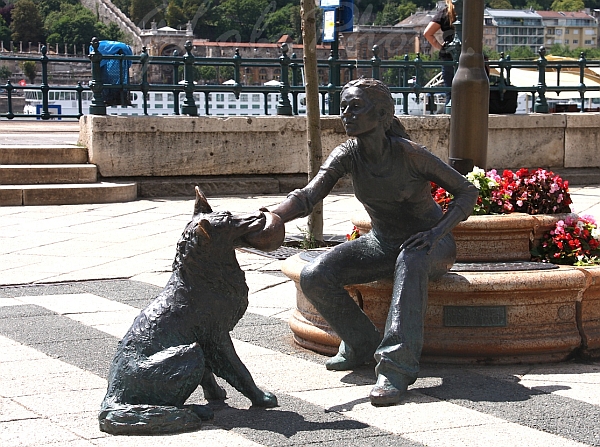 Some of them even deserve a longer sip of said air to be had at: Downtown Parish Church (Belvárosi Plébániatemplom), Vigadó, a concert hall operating since the 19th century and the statue of the Little Princess (Kiskirálylány).
Tips: If you continue along the river bank beyond the promenade you can get to the Parliament. Take tram line 2 to travel along the Danube on Pest side for a beautiful view of the Danube, the Parliament, the Royal Castle and Palace and other great attractions.
Good to know about Danube Promenade
The Danube Promenade (Dunakorzó) spans from Elizabeth Bridge to Chain Bridge on the Pest side banks of the Danube
It was once lined with luxury hotels, restaurants and cafés overlooking the Danube and Buda castle
After it was established in the 19th century, the area became immensely popular; there is an effort to recreate the pre-war ambiance
Highlights: Elizabeth Bridge, Vigado Concert Hall, Little Princess, Chain Bridge
Elizabeth Bridge is named after Emperor Franz Joseph's wife. The original bridge, built in 1890s, was destroyed in WWII; a new one was built on the old pillars in the 1960s
Little Princess is a cute small bronze statue sitting on the promenade's railings at Vigado Square; one of Budapest's newest attractions
Vigado Concert Hall (1865) is the city's second largest concert hall. Such masters performed here as Liszt, Mahler, Wagner, Von Karajan, Brahms or Debussy
Did you like Duna-Korzó? Please share your opinion below or rate it at the top!
Have you got any Budapest or Duna-Korzó related question? Please have a look at our Questions & Answers section!
Take a look at the Menu "Attractions" to see what other tourist sights are around.
Duna-Korzó on the map
Click for Google Route Planner here.
Share this article with others
There is an easy way how to link to our Budapest guide & maps about Duna-Korzó, ready to use on your website. Simply copy & paste the HTML code below into your page source code. Thank you for all links to Budapest travel guide!