Name: Chain Bridge
Category: Architecture, castles and historic districts
Location: 1013 Budapest, Lánchíd
Description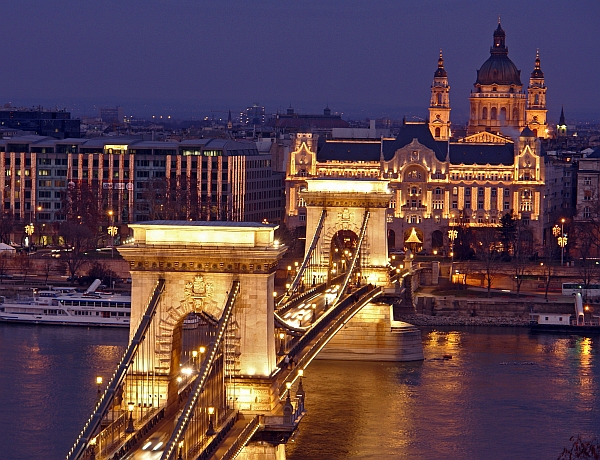 Széchenyi Bridge, or the Chain Bridge, is the oldest in the city. Built between 1839 and 1849 under the aegis of Count István Széchenyi, it is now considered the symbol of the city. Two British engineers, William Thierney Clark and Adam Clark, were entrusted with the project. The fine classical stone and iron structure has a 380m span, is 15.70m wide, and is magnificently lit at night. Two stone lions on pedestals keep proud watch over either end of the bridge.
Good to know about the Chain Bridge
Chain Bridge was the first permament bridge over the Danube connecting Buda and Pest and setting the unification of the two cities in motion
Count Istvan Szechenyi came up with the idea of a permanent bridge after being stranded in Pest for weeks because of the hard winter of 1820
Construction, financed by Szechenyi, begun in 1836 and finished during the Hungarian War of Indepencence against Austria in 1849. The first ones crossing the bridge were Hungarian soilders
Szechenyi collapsed mentally in 1848 and was unable to see his dream come true
The Germans blew up the bridge in the siege of Budapest (1945); it was rebuilt in its original form by 1949, 100 years after its first opening
The bridge takes its name after the huge chains that hold it up
Two lions guard the bridge on both bridgeheads. According to the legend the sculptor jumped in the river after a boy pointed out on the official opening ceremony that the lions had no tongues
Did you like Chain Bridge? Please share your opinion below or rate it at the top!
Have you got any Budapest or Chain Bridge related question? Please have a look at our Questions & Answers section!
Take a look at the Menu "Attractions" to see what other tourist sights are around.
Chain Bridge on the map
Click for Google Route Planner here.
Share this article with others
There is an easy way how to link to our Budapest guide & maps about Chain Bridge, ready to use on your website. Simply copy & paste the HTML code below into your page source code. Thank you for all links to Budapest travel guide!