Name: Parliament
Category: Architecture, castles and historic districts
Location: 1055 Budapest, Kossuth Lajos tér 1-3.
Description
One of the first excursions of Hungarian children generally leads to the Parliament, and rightly so. The Hungarian attraction of world-wide renown offers enough sights to keep you occupied for half a day. The 268 m long, 96 m high neo-Gothic building with 691 rooms by the Danube designed by Imre Steindl is a breathtaking sight. In addition, one of the halls made of extremely precious materials houses the Holy Crown that rested on the head of even the first kings of the Árpád dynasty.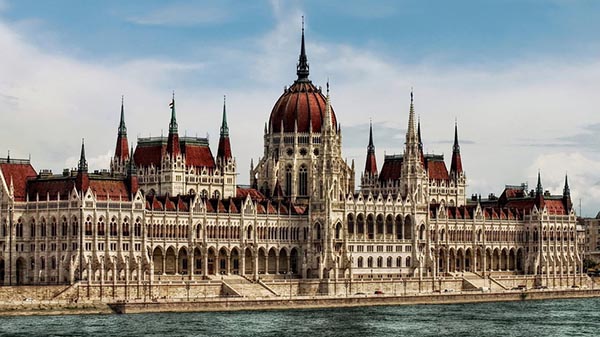 Attributed to Imre Steindl, this gigantic neo-gothic monument which makes you think, with its dome, its pinnacles, arrows, arcades and galleries, about the one in London or about the Dome in Milan. You can visit part of it and especially admire the crown jewels, previously kept in the Hungarian National Museum. Along the sumptuous staircase of honour, you will reach the immense hall of the dome, the house of deputies (allegories of the trades) and the Meeting Hall, where gold inlay abounds.
Good to know about the Parliamant
The grandiose Hungarian Parliament is one of Budapest's defining landmarks
When the Hungarian Parliament built, this imposing Neo-Gothic building was the largest Parliament in the world and the finest Neo-Gothic building of Europe
The Palace of Westminster in London had much influence on its artchitect, Imre Steindl The building was opened for business in 1896 and represented Hungarian self-confidence of the early 20th century
The building streched 268 meters along the Danube; has over 12,5 miles of corridors; a 96-meter high central dome; and houses 691 rooms
The Domed Hall is the spiritual center of the building; the supporting pillars feature the statues of 16 Hungarian kings
The Hungarian Crown Jewels are held in the Domed Hall. The Holy Crown is the oldest crown in Europe dating back to 1000
Tip: The visit is free for EU citizens. Do not forget your passport or ID in order to prove your citizenship
Did you like Parliament? Please share your opinion below or rate it at the top!
Have you got any Budapest or Parliament related question? Please have a look at our Questions & Answers section!
Take a look at the Menu "Attractions" to see what other tourist sights are around.
Parliament on the map
Click for Google Route Planner here.
Share this article with others
There is an easy way how to link to our Budapest guide & maps about Parliament, ready to use on your website. Simply copy & paste the HTML code below into your page source code. Thank you for all links to Budapest travel guide!