Budapest is an ideal spa city both for those who like thermal water and for those who dread submerging in it. Apart from the world-famous pools of curative water of the capital, there's the experience of bathing in real monuments. In addition, some of the spas in Budapest offer such extra services as various beauty treatments, steam room, sauna, massage and flat-surface pools. Cinetrip and the Night of Baths make these places of history exciting for young people, as well, since these parties offer carefree fun in the sultry night.
It's definitely recommended to spend some time at one of the 11 spas of Budapest even if your schedule is tight, as this city is the only capital to boast with underground springs of such good quality water ranging from 21-76 °C. The baths making use of the famous springs below provide opportunities to chat with the locals or even challenge them to a game of chess. Traveling and sightseeing aren't exactly passive methods of recreation but if you intend to get more active in Budapest, do choose an activity that not only suits your needs but has something to say about the city, as well, whether it's a mere getaway to a fitness center or a rather special sporting enterprise. The following chapter below the map is dedicated to such exciting places and their tradition.
The baths of Budapest have a long history, stretching back to Roman times. The thermal baths were popularized by the Turks, who started building them in 1565, giving them a place to bathe in case of a siege on the city.
Budapest and other parts of Hungary are built over hot springs, making this a natural way of acquiring the mineral-rich waters for bathing. Hungarians and other Europeans are great believers in the medicinal powers of thermal bathing, with all of the thermals being medical clinics as well for the treatment of skin, muscular, and bone ailments.
Take a towel and slippers along! You can't rent them at the baths in general.
Time spent in a thermal bath will lift your spirits and drench you in culture. Most baths in Budapest have recently instituted a complicated new pricing system (dubbed the "refund system") that charges according to the time spent in the baths. You are required to pay for the longest possible duration (4 hr. or more) when you enter the bathhouse, but you are refunded money based on the actual time spent in the thermal area. You are given a chip card upon entry; keep careful track of the card because if you lose it, you are assumed to have stayed for the maximum time. The exception is the Király, which is still a set fee for entry and you are allowed 1,5 hours and then are expected to leave. On Saturdays, it is limited to 1 hour.
Gellért Baths
Once one of Budapest's most spectacular bathhouses, the Gellért Baths are located in Buda's Hotel Gellért, the oldest Hungarian spa hotel and a Secessionist-style hotel. Over the years, the baths have lost their luster and some of the tile work. Remodeling took place in 2007. We find the entry cost prohibitive, so we do not recommend this thermal. Foreigners, usually staying at the hotel, get free entry and are those most likely to frequent it. The staff is churlish. If you go, enter the baths through the side entrance. The exterior of the building is in need of restoration, but once inside the lobby, the details are lovely, but most of it stops here. In the summer months, the outdoor roof pool attracts a lot of attention for 10 minutes every hour on the hour, when the artificial wave machine turns on. In general, you need patience to navigate this place, and the staff is not helpful.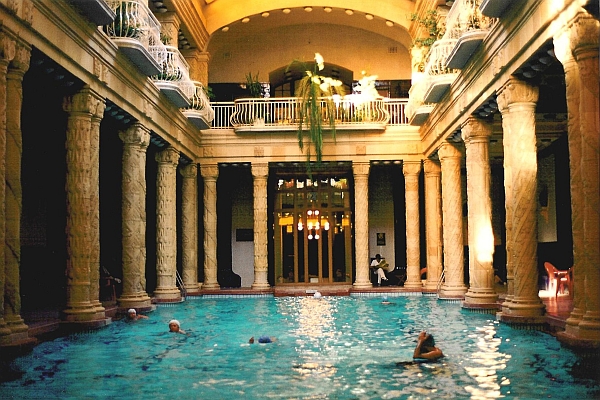 Budapest, XI. Kelenhegyi út 4. Phone: 00 36 1 466-6166. Admission 5.100 Ft for 4 hr. Lockers or cabins are included. Prices and the lengthy list of services, including the complicated refund system, are posted in English. May– Sept daily 6am–7pm; Oct–Apr Mon–Sat 6am–7pm, Sun 6am–5pm, with the last entrance an hr. before closing. Tram: 47 or 49 from Deák tér to Szent Gellért tér.
Király Baths
This is one of the oldest baths in Hungary, dating back to around 1563, when the Turkish built the baths so they could bathe and be ready for battle. Other legends say the Turks built them to get the Hungarians to bathe. Regardless of the reason, the Király Baths are still one of Budapest's most important architectural tributes associated with Turkish rule. Bathing under the octagonal domed roof with sunlight filtering through small round windows in the ceiling gives the water a special glow.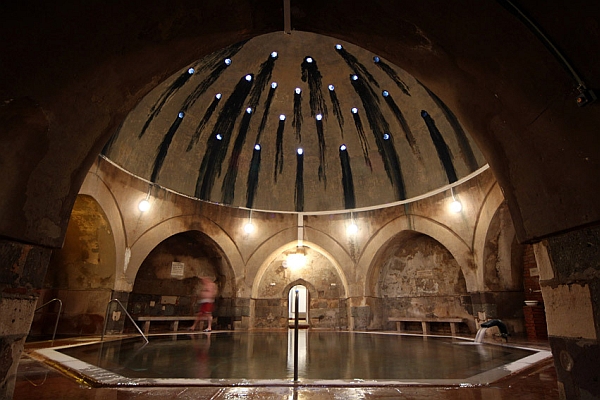 This bath is time-limited; Monday through Friday, you are allowed to stay for only 1,5 hours and on Saturday, only 1 hour, before being expected to leave. Bathing suits are required for both sexes, and take a towel with you. Women use the baths on Monday, Wednesday, and Friday from 7am to 5pm. Men are welcome on Tuesday, Thursday, and Saturday from 9am to 7pm. Budapest, I. Fő u. 84. Phone: 00 36 1 202-3688. Admission 2.600 Ft. Metro: Batthyány tér (Red line).
Palatinus Strandfürdő
Located on Margaret Island, Palatinus Strandfürdő has a holiday camp atmosphere that you can check into every day in summer. There's a wide range of pools of varying temperatures and a long one for proper swimming, plenty of grass to camp out on, and loads of food stalls and bars. There's even fruit stands. Location: Margit Sziget. Phone: 00 36 1 340-4505.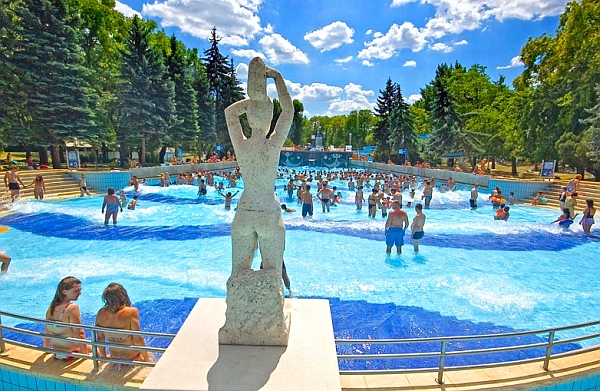 Go early on very hot days, at weekends, or in school holidays. Daily 9am–7pm May 1–Aug 31. Ft 3.000 for all day on weekdays with locker. Cheaper tickets available for shorter times. Bus: 26 to Palatinus strand.
Rudas Baths
Rudas Baths (Rudas Fürdő) is close to the Erzsébet Bridge, on the Buda side, is the second oldest of Budapest's classic Turkish baths, built in the 16th century. These baths are for men only every day, except Tuesdays during the day or Friday and Saturday nights at 11pm. This is a new phenomenon, which started after the bath reopened after a year's remodeling in 2007.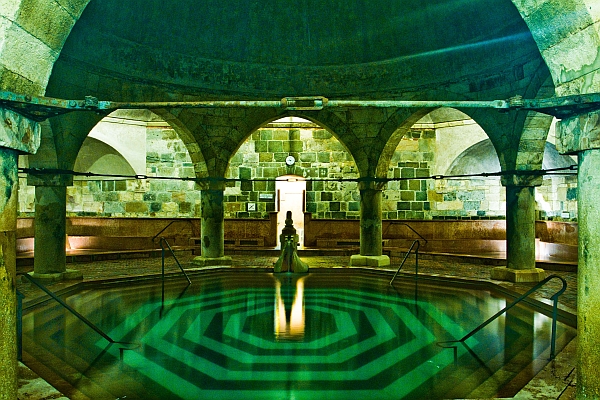 The centerpiece is an octagonal pool under a 10m (33-ft.) domed roof, with some of the small window holes in the cupola filled with stained glass, while others are open to the sky, allowing diffused light to stream in. Along the sides, there are four corner pools of varying degrees of temperature. During early mornings, the crowd is predominantly composed of older Hungarian men. Budapest, I. Döbrentei tér 9. Phone: 00 36 1 356-1010. Admission 2.200 Ft with refunds available up to 3 hr., swimming pool with locker 1.200 Ft. Mon–Fri 6am–8pm; Sat–Sun pool only 6am–2pm. Bus: No. 7, but not No. 7 Express, stops right in front on the Buda side.
Széchenyi Baths
One of the largest spa complexes in Europe, Széchenyi was also the first thermal on the Pest side. Located in the City Park, the Széchenyi Baths are the most popular with locals and travelers alike. From the outside, you'd never believe its enormity, but once inside it is humungous, with a variety of water temperature pools, including a whirlpool that spins you around.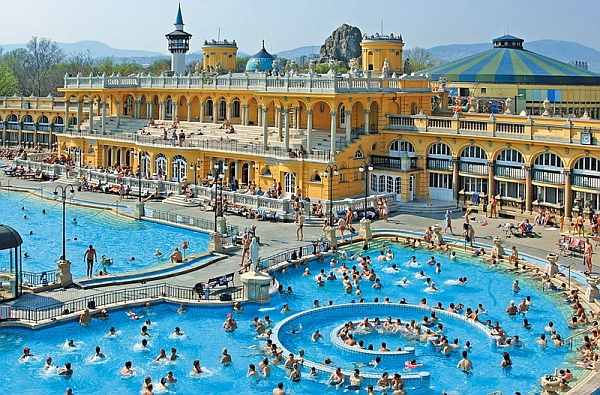 Crowds of bathers, including many families and tourists, visit the palatial unisex outdoor swimming pool, but due to its size, it never feels overcrowded. Turkish-style thermal baths are segregated and are located off to the sides of the pool.
In warm weather, there is segregated nude sunbathing on the roof. Budapest, XIV. Állatkerti út 11–14, in City Park. Phone: 00 36 1 363-3210. Admission to the thermal baths 4.700 Ft. Daily 6am–10pm; some pools close earlier on Sat–Sun. Metro: Széchenyi fürdő (Yellow line).