Name: Lukács Bath
Category: Baths
Location: 1023 Budapest, Frankel Leó utca 25-29.
Phone: + 36 1 326-1695
Internet: http://www.lukacsfurdo.hu
Description
Bath as the Ottomans did
Two baths with centuries of history behind them, utilizing the same spring adapted to modern-day needs in beautiful environments. Both places flourished as early as the Ottoman times, Lukács was reopened in the 19th century, while Veli Bej had to wait for its turn until a couple of months back.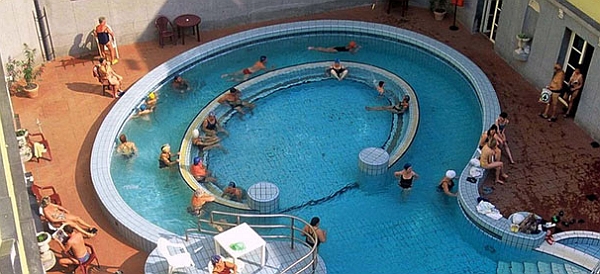 In the latter you can find a sauna, an infrasauna, a steam room, experience showers, family cabins, a weight bath, a Kneipp-basin, a jacuzzi, curative pools of water containing Calcium Carbonate, and, of course, a flat-surface pool.
Did you like Lukács Bath? Please share your opinion below or rate it at the top!
Have you got any Budapest or Lukács Bath related question? Please have a look at our Questions & Answers section!
Take a look at the Menu "Attractions" to see what other tourist sights are around.
Lukács Bath on the map
Click for Google Route Planner here.
Share this article with others
There is an easy way how to link to our Budapest guide & maps about Lukács Bath, ready to use on your website. Simply copy & paste the HTML code below into your page source code. Thank you for all links to Budapest travel guide!