Name: Rudas baths
Category: Baths, Nature and gardens
Location: 1013 Budapest, Döbrentei tér 9.
Phone: + 36 1 356-1010
Internet: http://www.rudasfurdo.hu
Description
A bath for men
Or not really? Rudas Bath (Rudas Fürdő) is also a place of traditions with a history going back 500 years. Tuesdays are reserved exclusively for women in the original Turkish bath, on Saturdays and Sundays it's open for everybody interested regardless of gender. The same is true for Fridays and Saturdays from 10 pm to 4 in the morning. Steam, 42 °C water, coldwater pool and the octagonal pool of thermal water.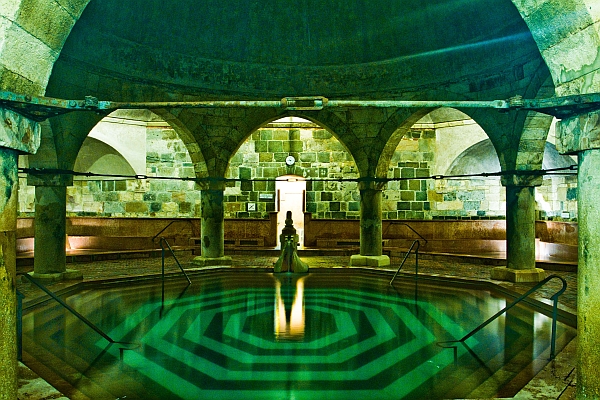 There is nothing special about these Turkish baths for men from the outside. Yet... After having put on a white loincloth, you set off towards the cenacle, where the uninitiated are in for a real surprise, you reach the strange atmosphere of the den built by the pasha Mustapha Sokoli, in 1566. A large octagonal pool built using red marble is in the centre and is surrounded by columns. In each corner, there is a pool where the temperature ranges from very cold to very hot!
Did you like Rudas baths? Please share your opinion below or rate it at the top!
Have you got any Budapest or Rudas baths related question? Please have a look at our Questions & Answers section!
Take a look at the Menu "Attractions" to see what other tourist sights are around.
Rudas baths on the map
Click for Google Route Planner here.
Share this article with others
There is an easy way how to link to our Budapest guide & maps about Rudas baths, ready to use on your website. Simply copy & paste the HTML code below into your page source code. Thank you for all links to Budapest travel guide!