Name: Gellert Baths
Category: Baths, Nature and gardens
Location: 1118 Budapest, Kelenhegyi út 4-6.
Phone: + 36 1 466-6166
Internet: http://www.gellertbath.com
Description
In Gellért Bath (Gellért Fürdő), which operates since the beginning of the 20th century, you can find more indoor pools along with a large outdoor one and thermal pools for men and women alike. Besides rejuvenating bathing you can opt for curative treatments in the complex. What's more, you can even relax in the dressing rooms decorated with wooden carvings and equipped with booths.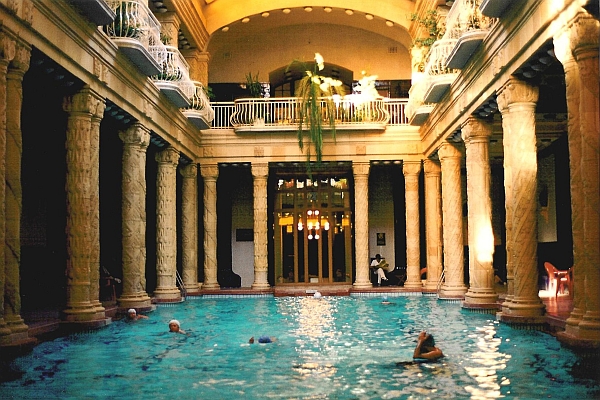 The most exotic of Budapest's numerous public baths. The outdoor one is a good example of Secession style, while the indoor one, built on the site of the hotel's former greenhouse, is in the Art décor style with its glass, its balconies, its pink columns and its ceramic tiles. You will find nine large pools, one of which has a wave machine (in summer only).
Did you like Gellert Baths? Please share your opinion below or rate it at the top!
Have you got any Budapest or Gellert Baths related question? Please have a look at our Questions & Answers section!
Take a look at the Menu "Attractions" to see what other tourist sights are around.
Gellert Baths on the map
Click for Google Route Planner here.
Share this article with others
There is an easy way how to link to our Budapest guide & maps about Gellert Baths, ready to use on your website. Simply copy & paste the HTML code below into your page source code. Thank you for all links to Budapest travel guide!