Name: Széchenyi Baths
Category: Baths, Nature and gardens
Location: 1146 Budapest, Állatkerti krt. 11.
Phone: + 36 1 363-3210
Internet: http://www.szechenyifurdo.hu
Description
Széchenyi Bath (Széchenyi Fürdő) owes its popularity to its size and the wide selection of services it offers. The bath, built at the beginning of the 20th century in Neo-Baroque style, features many indoor pools, an outdoor pool open in winter, too, thermal and wellness areas, curative treatments and fitness opportunities. The bath, open until 10 pm, is a must in the winter snowfall.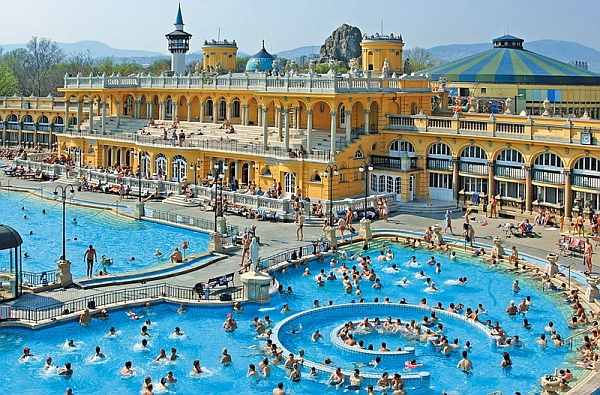 Even in the middle of winter, when the pools are surrounded by snow and ice, you can enjoy a swim or have a game of chess in the outside baths, where the water is 38C. A truly nostalgic and unforgettable experience. See other thermals in Budapest.
Tip: If you forgot your towel or swimsuit they can be rented or bought in the spa
Good to know about the Széchenyi Bath
Szechenyi Bath and Spa is located in a stunning Neo-baroque building, an attraction on its own right
It opened its gates in 1913 as the first permanent bath in Pest; a temporary bath in the same location dates back to 1881
This is Europe's largest medicinal bath; the complex has 15 pools (both indoor and outdoor) and offers a full range of thermal water treatments
Sauna, steam room and massage services are also available here
Two thermal springs supply it with water; their temperature are 74 °C (165 °F) and 77 °C (171 °F)
The bath is named after Count Istvan Szechenyi, the 'greatest Hungarian', mastermind and financer of the Chain Bridge
Did you like Széchenyi Baths? Please share your opinion below or rate it at the top!
Have you got any Budapest or Széchenyi Baths related question? Please have a look at our Questions & Answers section!
Take a look at the Menu "Attractions" to see what other tourist sights are around.
Széchenyi Baths on the map
Click for Google Route Planner here.
Share this article with others
There is an easy way how to link to our Budapest guide & maps about Széchenyi Baths, ready to use on your website. Simply copy & paste the HTML code below into your page source code. Thank you for all links to Budapest travel guide!