Name: Heroes' Square
Category: Architecture, castles and historic districts
Location: 1068 Budapest, Hősök tere
Description
Heroes' Square (Hősök tere) belongs to Budapest's World Heritage Sites. The square, together with the monument built for the millennium of Hungary's foundation is a mustsee. The freedom emanating from them will definitely get to you. If it still doesn't satisfy you, here are the Museum of Fine Arts (Szépművészeti Múzeum), the Kunsthalle (Műcsarnok), the Vajdahunyad Castle (Vajdahunyad vára) and the City Park (Városliget), that's bound to be refreshing after so much culture. Finally, those who feel like experiencing something more intense should check out the Zoo or the Municipal Circus, both of which located nearby.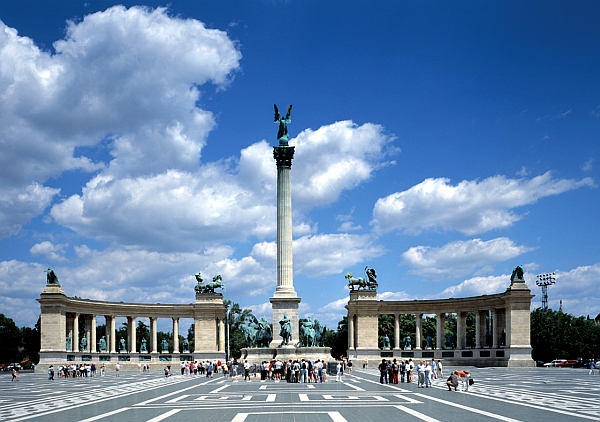 This immense square attributed to the architect Albert Schickedanz is surrounded by the Museum of Fine Arts and by the Art Gallery. In the centre a column and behind two colonnades in a circle arch with a set of statues and sculptures: the monument to the Thousandth Anniversary. In front of the column, two soldiers perform a well rehearsed ballet before the tomb of the unknown soldier. It has always been a great place for meeting for mass demonstrations, popular celebrations or rejoicing.
Wander around the impressive and huge square and admire the wonderful composition of the statues.
Good to know about Heroes' Square
Heroes' Square (Hősök tere) is a grandiose square at the end of Andrássy Avenue; the two forming a UNESCO World Heritage site since 2002
The two imposing buildings on each side are the Museum of Fine Arts and Hall of Art
The Millennium Memorial dominates the square comprising of a Corinthian column in the center and two semicircle colonnades in the background
The construction of the memorial started in 1896 to commemorate the 1000th anniversary of Hungary's existance
At the base of the central column, the mounted figures represent the 7 founding fathers of Hungary; at the top Archangel Gabriel holds St. Stephen's holy Crown
Both colonnades feature 7 statues of important figures of Hungarian history, e.g. first king, St. Stephen, or Lajos Kossuth, leader of the independence war of 1848-49 against Austria
The 4 statues on the top of the colonnades represent: War (left, inner edge), Peace (right, inner edge), Work and Welfare (left, outer edge), and Knowledge and Glory (right, outer edge)
Did you like Hero Square? Please share your opinion below or rate it at the top!
Have you got any Budapest or Hero Square related question? Please have a look at our Questions & Answers section!
Take a look at the Menu "Attractions" to see what other tourist sights are around.
Hero Square on the map
Click for Google Route Planner here.
Share this article with others
There is an easy way how to link to our Budapest guide & maps about Hero Square, ready to use on your website. Simply copy & paste the HTML code below into your page source code. Thank you for all links to Budapest travel guide!