Name: Museum of Fine Arts
Category: Museums and art
Location: 1146 Budapest, Dózsa Gy út 41.
Phone: + 36 1 469-7100
Internet: http://www.szepmuveszeti.hu/main
Description
This Museum is closed for a renovation until spring, 2018.
The Museum of Fine Arts (Szépművészeti Múzeum) has been presenting the world-famous elite of visual arts for years, so one could see the works of, for instance, Lucien Hervé, Fernando Botero and William Kentridge. The 2012 season also has some excitement to offer for aficionados of painting and photography in the works of Pieter Bruegel, Paul Cézanne and the contemporary Chinese arts.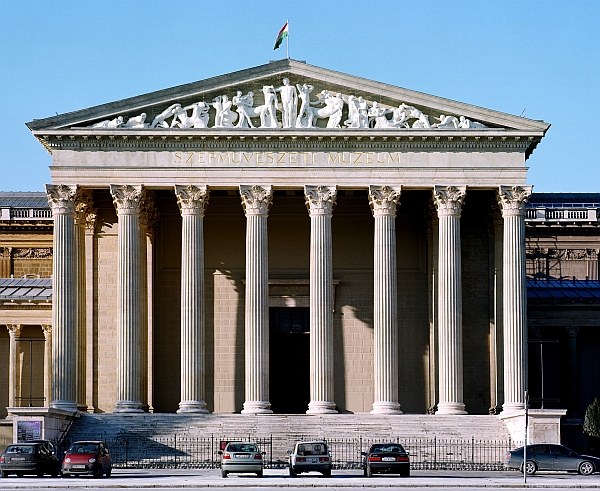 A colossal Neo-classic building fronted by a portico with eight Corinthian columns with a Greek inspiration. In the basement, the department of Egyptian antiquities gathers together pieces illustrating the different eras in ancient Egypt. On the ground floor, Greek and Roman antiquities, drawings and prints, art from the 19C It is on the 1st floor in the gallery of Old Masters that the masterpieces are concentrated, reflecting the great European Schools from the 13C to the 18C.
Good to know about the Museum of Fine Arts
The Museum of Fine Arts (Szépművészeti Múzeum) is housed in an imposing neoclassical building built between 1900 and 1906
It is Hungary's largest collection of international art comprising more than 100,000 pieces
The collection displays a wide range of artistic eras and genres
The majority of the collection was amassed by the Habsburgs who once ruled the country
The Fine Arts Museum features Raphael, Toulouse-Lautrec, Picasso, Goya and also a collection of ancient Egyptian and Greek art
The musuem is particularly strong in Spanish art with masterpieces of El Greco, Velázquez, Murillo, Ribera, Cano, Zurbarán and Goya THINGS TO DO THERE
Tip: The tickets to the temporary exhibition give access to the permanent one as well.
Did you like Museum of Fine Arts? Please share your opinion below or rate it at the top!
Have you got any Budapest or Museum of Fine Arts related question? Please have a look at our Questions & Answers section!
Take a look at the Menu "Attractions" to see what other tourist sights are around.
Museum of Fine Arts on the map
Click for Google Route Planner here.
Share this article with others
There is an easy way how to link to our Budapest guide & maps about Museum of Fine Arts, ready to use on your website. Simply copy & paste the HTML code below into your page source code. Thank you for all links to Budapest travel guide!