Name: Andrássy út
Category: Architecture, castles and historic districts
Location: 1061 Budapest, Andrássy út.
Description
After a trip to Paris in 1858 Count Gyula Andrássy had the idea to cut out a large thoroughfare linking the Small Boulevard to the Bois-de-Ville. The route for the avenue was designed in 1872 and the works lasted around 20 years. It cuts through Nagymező Street nicknamed Broadway for its theatres and cafés, and leads to Liszt Ferenc tér and Jókai tér (very busy in Summer) as well as to the Oktogon (a large crossroads in an octagonal shape which crosses the Large Boulevard).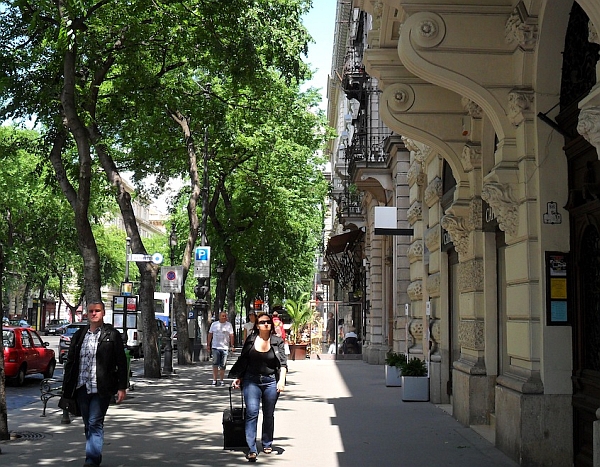 Take a walk on this long, wide boulevard with fine cafés, restaurants, theatres, and luxury boutiques.
The Hungarian State Opera (Magyar Állami Operaház), shops of luxury brands of world-wide fame, colleges, palaces, embassies, museums and historical coffeehouses – you walk past all of these on Andrássy Avenue (Andrássy út) that spans between Heroes' Square (Hősök tere) and downtown Budapest. The avenue can be divided into three distinctive parts: palaces and villas, then between Oktogon and Kodály Circus (Kodály körönd) there are rows of trees beside the road and finally the residential part with multistoried buildings. You might want to walk slowly because apart from the buildings worth to see, the avenue itself has a peculiar feel to it, too.
Good to know about Andrássy Avenue
Andrássy Avenue is an iconic boulevard in Budapest that connects the city center and the city park (Városliget)
It is lined with spectacular Neo-renaissance mansions; it is also features a number of fine cafés, restaurants and luxury boutiques
Andrássy Avenue was built in 1872 to divert the heavy traffic of parallel Király street and connect the city center with the city park
The palaces that line the boulvard were part of the plan. They were built by the leading contemporary artchitects
The palaces were completed by 1884; aristorcrates, bankers and historical families moved in The avenue takes its name after a former prime minister, Gyula Andrássy, who was one of the main supporters of the project
The anveue was renamed 3 times highlighting the rapid political changes of the time: first it was renamed Stalin Avenue (1950-56); in the1956 revolution it was named Avenue of Hungarian Youth; after 1956 it became People's Republic Avenue. The original name was restored in 1990
Tipp: Take a coffee or a meal in one of the cafés, restaurants on Liszt Ferenc Square.
Did you like Andrássy út? Please share your opinion below or rate it at the top!
Have you got any Budapest or Andrássy út related question? Please have a look at our Questions & Answers section!
Take a look at the Menu "Attractions" to see what other tourist sights are around.
Andrássy út on the map
Click for Google Route Planner here.
Share this article with others
There is an easy way how to link to our Budapest guide & maps about Andrássy út, ready to use on your website. Simply copy & paste the HTML code below into your page source code. Thank you for all links to Budapest travel guide!