Locating addresses in Budapest or anywhere in Hungary for that matter can be an exercise in frustration. Not only is strangeness of the Hungarian language confusing, the difference between an o, ö, ó, or ö, u,ú, ü, ű can make all of the difference and with 14 vowels to choose from, it can be a real puzzle. However, with a bit of practice and a good map, you should be successful.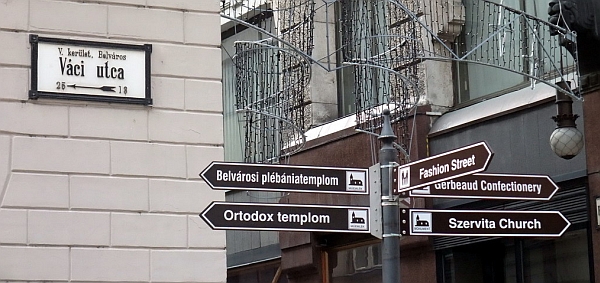 Budapest is divided into 23 districts, called kerülets (abbreviated as ker.). All addresses in Hungary start with a Roman numeral followed by a period signifying the kerület; for example, Budapest, VII. Síp u. 18. is in the seventh kerület.
Many street names are often used repeatedly in different districts, but are not all continuations of the same street. This makes it very important to know which kerület a certain address is in. You will also need to pay attention to the type of street. Is it utca, út, tér, or tere? For example, there are streets named Templom (church) in nine different districts with various utca, út, körönd, and so on added to them.
As a rule of thumb, street numbers ascend away from the north–south axis of the River Danube and the east–west axis of Rákóczi út/Kossuth utca/Hegyalja út. Even numbers are generally on the left-hand side as you head outwards from these axes, odd numbers on the right.
A common mistake made by visitors is to confuse Váci út, the heavily trafficked main road that goes from Nyugati Station toward the city of Vác, with Váci utca, the pedestrian-only street in the Inner City. Similarly, visitors sometimes mistake Vörösmarty utca, a station on the Yellow metro line, with Vörösmarty tér, the terminus of that same Yellow metro line.
If the address you are hunting for doesn't have a Roman numeral preceding it, look for the postal code for the kerület. Postal codes are four digits with the middle two digits representing the kerület; thus, 1072 Budapest, Síp u. 18, will be in district VII.
Street signs are posted high up on the corner buildings on a street and on two corners; one showing the even numbers and one with the odd numbers. The information given is the Roman numeral of the kerület followed by the name of the district, under this is the name of the street or square, and finally the building numbers found on that block.
Look at the arrow on the sign; for example, 29-35 with an arrow pointing to the right tells you that if you walk to the right, the numbers will get higher. You may have to look at all four corners before you see the one you want. Even- and odd-numbered buildings are on opposite sides of the street; however, they do not follow any pattern otherwise.
You may be in front of no. 98 on one side of the street and see no. 79 directly across from you. Depending on whether you are looking for an even or odd number on the street, orient yourself with the signs showing the even or odd numbering. Numbers are seldom skipped, but two or more places may share a number; often you'll end up walking longer than you expected to reach a given number. Adding to the "guess where it is" game, many businesses do not have a numeral posted on their doors, so look for other signs.
Many street names were changed following the systemic changes of 1989, reverting for the most part back to their pre-World War II names, aside from a handful of central streets with politically evocative former names, like Lenin körút (now Teréz körút) and Népköztársaság útja ("Road of the People's Republic," now Andrássy út).
Finding your way around Budapest is easier than the welter of names might suggest. Districts and streets are well signposted, and those in Pest conform to an overall plan based on radial avenues and semicircular boulevards.
Floors in buildings are numbered European style, meaning that the floor you enter, is the ground floor (földszint), so for the first floor, you have to go up one flight (első emelet), and so on. Addresses are usually written with the floor number in Roman numerals and the apartment number in Arabic numerals, following the street name. For example, a full address would be VII. Budapest Síp u. 18, IV/24. The district is the seventh in Budapest and the location is on Síp u. 18. on the fourth floor, apartment 24.
Read signs carefully and match all of the little marks above those vowels. The Hungarian alphabet has 44 letters, making it very detailed in writing and in speech. Refer to the "Hungarian Address Terms" box below.
Hungarian Address Terms
Navigating in Budapest will be easier if you are familiar with the following
words (none of which are capitalized in Hungarian):
Hungarian Address Terms
| | |
| --- | --- |
| utca (abbreviated as u.) | street |
| út | road |
| útja | road of |
| körút (abbreviated as krt.) | boulevard |
| tér | square |
| tere | square of |
| köz | alley or lane |
| körönd  | circle |
| rakpart | quay |
| liget | park |
| sziget | island |
| híd | bridge |
| sor | row |
| part | riverbank |
| pályaudvar (abbreviated as pu.) | railway station |
| állomás | station |
Street maps
A good map can save you hours of frustration. You can get a decent free map at the Tourinform office. Public transportation lines are shown on the maps, but, in some places, the map is too crowded to make the lines out clearly. If you are really lucky, the BKK térkép (Budapest Transportation Authority map) will be available from metro ticket windows, airport, or hotels.
If you really want one, at the top of the Red metro escalator at the Deák station, you will find an unnamed bookshop. They seem to have an endless supply of transit maps on sale.
You will also find that Google Maps has done a fine job with Budapest if you have your tablet, laptop or Wi-fi-enabled phone with you.