Name: Váci Street
Category: Architecture, castles and historic districts
Location: 1052 Budapest, Váci utca
Description
Váci utca has been famous for its shops and promenade since the 18th century. During the 1980s, its vivid streetlife became a symbol of the "consumer socialism" that distinguished Hungary from other Eastern Bloc states. Since 1989 it has been a tourist haunt, with endless souvenir shops and rip-off bars where unsuspecting visitors would be tricked into paying huge bills.
Today the northern half of the street, down to Ferenciek tere, has at least gained a touch of style from a number of outlets for big Western designer names.
Váci Street linking Vörösmarty Square with Fővám Square represents the main artery of the inner city. A stroll down "Váci utca" takes one past jewellers, perfumeries, brand name clothes shops from Marks and Spencer to Cottonfield, a C&A store, boutiques and bijouteries. But leave time for the foreign language bookshop selling translated works by several Hungarian authors.
Tips: Walk along the street and take in the atmosphere, the bustle and the stunning architecture of the street's buildings. A new exclusive shopping street (called Fashion street) was recently opened. It streches from Vörösmarty square to Deák square.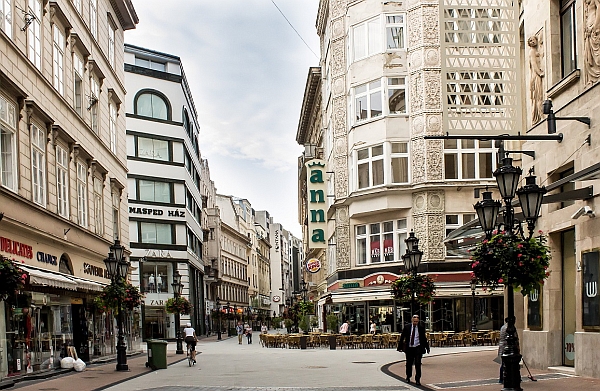 Then again, don't forget to slide off down one or two of the side streets: you'll discover boutiques and wine shops marketing the very finest quality Hungarian reds and whites. Famous Szamos marzipan is available in Párizsi Street, and the confectionery's ice cream is outstanding too.
And since the number of shops that can be squeezed onto the street level is finite, enterprising Hungarians have moved underground: three shopping centres have been created out of old cellars. One shop in Fehérhajó Street sells healing minerals, and in the middle of Váci Street others trade in antique furniture, porcelain and kid's clothing. In the meantime don't forget to direct your eyes upwards occasionally: most of the buildings in the heart of town were raised in the late 1800s, among them there are several outstanding examples.
The Csók Gallery on the corner of Pesti Barnabás Street displays and retails works by modern Hungarian artists, but if you are interested in antiques, you'll find them here too. Kígyó (Snake) Street is gradually turning into a street of porcelain: two shops selling the finest Hungarian porcelain face each other across the street. The speciality of the Zsolnay porcelain factory is its eosin glaze, a technique rarely employed in Europe. This iridescent glaze with its golds, greens and (more uncommonly) blues covers Zsolnay statues, plates and ash trays, while dining sets are characterized by an attractive ivory hue to the porcelain. The Herend shop sells single pieces, sets and statues patterned on classics created by the old factory established 176 years ago. Replacement pieces can also be ordered. At Elizabeth Bridge an underpass takes us on to the continuation of Váci Street.
Passing the Downtown Auction House (Belvárosi Aukciósház), it's fascinating to scan the regularly changing collection of shopwindow "treasures" small and large. Visit the Folkart Centrum at Váci Street 58 for just the right gift to remind you of your stay in Hungary.
The exceptional shopping street but also the street for tourists, lined with bureaux of exchange and shops of all kinds with enticing displays. Look up to admire the façades Nos. 5, 11a, 13, 15 and 18!
Good to know about Váci utca
Váci Street is a pedestrian street in the heart of Budapest spanning between Vörösmarty Square (city center) and the Great Market Hall (Fővám Square)
It is one of Pest's oldest streets. Originally it led towards Vác, a town some 40 km (25 mi) from Budapest
Soon it became popular with traders gathering around Vác Gate and wealthy citizens of Pest who came here to shop and enjoy a coffee
The street now is famous for its buzzing atmosphere with cafés, restaurants, shops, department stores, night clubs and many souvenir shops
The street is cut in half by an acess road to Elisabeth Bridge; the southern part being much quiter than the northern part
The department stores are dominated by brands such as Zara, Mango and H&M. Their selection is somewhat modest compared to those in Western Europe
Tourists are the prime audience of the street; locals are less likely to come here
Did you like Váci Street? Please share your opinion below or rate it at the top!
Have you got any Budapest or Váci Street related question? Please have a look at our Questions & Answers section!
Take a look at the Menu "Attractions" to see what other tourist sights are around.
Váci Street on the map
Click for Google Route Planner here.
Share this article with others
There is an easy way how to link to our Budapest guide & maps about Váci Street, ready to use on your website. Simply copy & paste the HTML code below into your page source code. Thank you for all links to Budapest travel guide!