Most people who only arrange a day or two in Budapest find they have shortchanged themselves and pledge to return for a longer visit in the future. However, if your time in the city is limited, you will find ways in this chapter to maximize your trip.
Historic Budapest is basically a small area and many sights are relatively easy to walk to as listed on this Guide Website, and you'll have the added pleasure of perusing the architecture along the way. However, if you are severely limited by time, we suggest you invest in a transport pass, covering the number of days you will be here, so you can get around more quickly.
Conversely, if you scheduled more than a week in Budapest, you may want to balance it out with one or two side trips using the city as your base. In an easy day of travel and touring, you can visit the small, quaint villages of Szentendre, Vác, Gödöllő, or Esztergom, each within an hour of the Hungarian capital.
You may want to consider the information here as a supplement for the itineraries of the walking tours listed in post, "Strolling Around Budapest."
To really appreciate the city and the layout, you will need a short history lesson. The city of Budapest came into being in 1873, making it relatively young in its present form. It is the result of a union of three separate cities: Buda, Pest, and Óbuda (literally meaning Old Buda) consisting of 23 self-governing municipal districts.
Budapest is divided by the River Danube (Duna) with Pest, almost completely flat, on the eastern shore, making up almost two-thirds of the city. On the western bank is Buda and farther yet, Óbuda, which has the hilly areas, these areas being much older settlements. The entire Danube River flows eastward for a distance of some 2,850km (1,771 miles) making some strange twists and turns as it goes flowing through or forming part of a border of 10 European countries, making it the longest river in the European Union.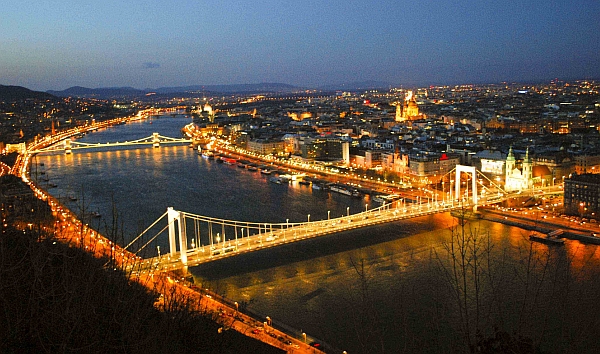 The stretch of the Danube flowing through the capital is fairly wide (the average width is 400m/1,312 ft), and most of the city's historic sites are on or near the river.
Nine bridges connect the two banks, but two are for rail travel only, with five in the city center. The Széchenyi Chain Bridge (Lánchíd) built in 1873, was the first permanent bridge across the Danube uniting Óbuda, Buda, and Pest. Although it was blown up by the Nazis in 1945, it was rebuilt after the war, reopening in November 1949.
If you look at a map of the city, you will see that the districts are numbered in a spiral pattern for the most part with districts I, II, and III on the Buda side and then IV starts the Pest side until XI, which again is the Buda side.