Budapest facts and figures
Area: 525 square kilometres (in a north–south direction approx. 25 km, east–west approx. 29 km)
Population: 1.815.000
Population density: 3456 persons/ square kilometre
Administrative structure: 23 districts
Buda: comprising one-third of the area of the city on the hilly, right bank of the Danube
Pest: comprising two-thirds of the area of the city on the flat, left bank of the Danube
Islands (from north to south): Óbuda Island, Margaret Island, Csepel Island
Bridges: nine bridges, of which two are rail bridges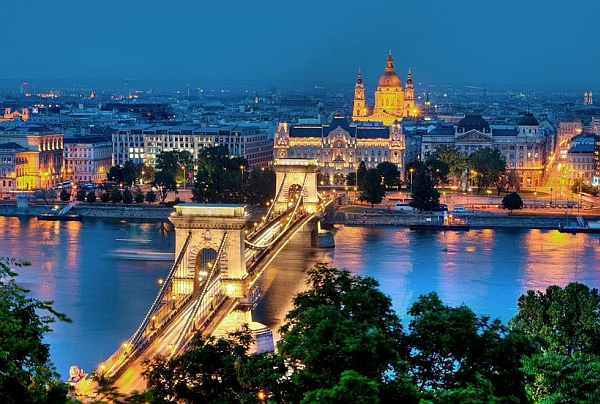 Other information
Accommodation
Budapest, the capital of Hungary has every category of accommodation from luxury hotel to paying guest rooms. Free copies of Accommodation in Budapest can be picked up from information offices and hotel receptions in town.
American Express
Budapest's only American Express office closed its doors in
2005. They have replaced the office with a local toll-free number, so if you need assistance, call them at 06/800-1-7920. It may look strange, but it works.
Banks
In general banks are open Monday through Friday from 8am to 4pm. Some banks open a half-hour later on some days, but stay open an hour later
that day.
Business Hours
Most stores are open Monday through Friday from 10am to 6pm and Saturday from 9 or 10am to 1 or 2pm. Most stores are closed Sunday, except those in the central tourist areas. Some shop owners and restaurateurs also close for 2 weeks in August. On weekdays, food stores open early, at around 6 or 7am, and close at around 6 or 7pm. Convenience stores, called "nonstops," are open 24 hours and just about every neighborhood has at least one.
Dining
Eating out in Budapest is generally a casual affair with no jacket required except for a few exclusive restaurants (you should enquire when making a booking).
Doctors
First Med Center (formerly called the American Clinic), Budapest, I. Hattyú u. 14, fifth floor (00 36 1 224-9090; www.firstmedcenters.com), is a private outpatient clinic with two U.S. board-certified physicians and several English-speaking Hungarian doctors.
Electricity
Like the rest of continental Europe, Hungary uses two pin plugs and the 230V AC. current. With the exception of the U.K., the same adapter will serve you throughout Europe. Adapters can be bought in electrical stores such as Media Markt.
Embassies
Please see our detailed page for embassies.
Emergencies
Dial & 104 for an ambulance, 105 for the fire department, and & 107 for the police. 00 36 1 438-8080 is a 24-hour hot line in English for reporting crime.
Etiquette & Customs
Old-world etiquette is still in vogue in Hungary with older people, but it is not always the same with the young generation. Those taught well hold doors open for women and readily give up their seats on the bus for those who need them. Since older people feel entitled, you may not receive any thanks for your efforts.
Holidays
Non-working days: national holidays (15th March, 20th August, 23rd October) and 1st May (May Day), Christian holidays: 1st January, All Saint's Day (1st November), Easter Monday, Whit Monday, Christmas Day and Boxing Day (25th–26th December).
Internet Access
In larger cities, there is no shortage of Internet cafes. Wi-Fi hot spots with free access are incredibly common, having been a competing point for businesses to draw customers. Look for hot spot stickers at cafes, shops and restaurants.
Insurance
Local healthcare is excellent and Hungary has reciprocal healthcare arrangements with a number of countries.
It is advisable to arrange travel insurance before departing your home country, although local private medical fees are reasonably priced. With its high standards for a low cost, Hungary is a serious health tourism destination, especially for dental care. For EU citizens emergency treatment is free on presenting a European Health Insurance Card (EHIC).
Liquor Laws
The legal drinking age in Hungary is 18. There is zero tolerance for drinking and driving.
Lost Property
If your luggage is lost on arrival make a claim at the airport immediately. Police stations handle lost property. Check which district your items were lost or stolen in and go to that district's police station, although not much ends up returned.
Money
Hungary uses the Forint (Ft or HUF). The exchange rate varies and at the time of writing this post $1 is worth Ft 262 & 1 EUR is 316 Ft. Hungary is far from a cashless society and the use of credit cards is slowly catching on.
Newspapers & Magazines
For English-language current events and political news in Hungary, pick up the Budapest Times - weekly.
Passports
Passports are issued by the relevant embassy who should also be contacted immediately in the case of lost or stolen passports. You are also required to report the incident to local police and request a a police report.
Pharmacies
Pharmacies are plentiful in Budapest and the one at Budapest, Teréz körút 41. (00 36 1 311-4439) is open around the clock and charges a small fee for an after-hours service.
Peak Seasons
The peak season in Budapest is between July and August. Many locals actually leave Budapest in August for their own holidays, and the city can often feel as though it is populated entirely by tourists. Formula One weekend at the end of July is the single biggest event of the year, when hotel rooms are at their most expensive. Avoid it unless you are planning to attend the race.
Restrooms
The words for toilet in Hungarian are WC (pronounced vay-tsay), mosdó, or toalett. Női means "women's"; férfi means "men's." Many American-type fast-food restaurants are charging for the use of their bathrooms unless you have your receipt from a purchase made that day.
Safety
Hungary is one of the safest countries in Europe, and violent street crime is almost unheard of. However, you should always avoid political demonstrations and be aware of pickpockets, especially on crowded buses, trains, and trams. In Budapest, there always seem to be obnoxious drunks at night, but often they are foreigners who have come here to party. Budapest is filled with underpasses. Be careful at night; you can always choose to cross a street aboveground if an underpass appears deserted.
Senior Travelers
Foreign senior citizens are entitled to the same free public transport right as Hungarians.
Smoking
Smoking is forbidden in all public places (including all public transportation, pubs and restaurants). Hungarians are smokers, making it part of the cafe or pub lifestyle. Tilos a dohányzás or Dohányozni tilos means "no smoking."
Staying Healthy
Ticks (kullancs) populate woodland areas in parts of Hungary, including the Buda Hills to some extent, and pose a threat in the form of Tick brain-inflaming Borne Encephalitis (TBE) and Lyme Disease. Cover up well in wooded areas and check for the little blood suckers later, especially behind your hair line. They can be twisted out with tweezers, but go straight to a doctor if the insect doesn't come out in one piece. Mosquitoes can be a pest in summer but don't carry malaria in Hungary. Insect repellent can deter both.
Taxes
Taxes are included in restaurant and hotel rates, and in shop purchases. International travelers are entitled, upon leaving the country, to a refund of the 27% VAT on certain purchases once you have spent a specific amount at each store.
Telephone
The country code for Hungary is 36. To call to Hungary from abroad: Dial the appropriate numbers to get an international dial tone (011 from the U.S.), then dial 36 (Hungary country code), followed by the appropriate city code (for Budapest, 1), followed by the six- or seven-digit telephone number.
To make international calls: To make international calls from Hungary, dial 00 and then the country code (U.S. or Canada 1, U.K. 44, Ireland 353, Australia 61, New Zealand 64). Next you dial the area code and number. To make a call from one Hungary area code to another, first dial 06; when you hear a tone, dial the area code and number.
Time Zone
Hungary is on Central European time, 2 hours ahead of Greenwich Mean Time and 6 hours ahead of Eastern Standard Time from March 26 to October 26; from October 27 to March 25 (during the equivalent of daylight saving time), the difference is 1 hour and 5 hours, respectively.
Tipping
If a restaurant bill includes a service fee, as more and more restaurants do so, it usually goes to the business. Adding another 10% to 15% for the waiter is appreciated.
Toilets
Public toilets are not in great supply but can be found at the key transport hubs. You have to pay a small fee to use them, usually around Ft 100. Dropping into hotels or restaurants/pubs discretely is often the best option.
Tourist Traps
Beware of service already being added to restaurant bills in some restaurants. If it is you needn't tip extra unless you were especially pleased with the service. Service charges are often mentioned on menus in English, but if not look out for the word "kiszolgalás". Avoid getting into unmarked (non-licenced) taxis as they can really overcharge, and there have even been problems reported with reputable companies. Make sure the meter is running when you start your journey. The taxi driver will understand the word meter, if not the Hungarian word is "óra" - if you have problem simply point at the taximeter.
The US Embassy carries a black list of rip-off joints to be avoided at all costs at: http://hungary.usembassy.gov/tourist_advisory.html.
Travelers with Disabilities
Budapest is gradually waking up to the needs of disabled travelers but has a long way to go before it is on a par with Western countries. Getting on and off public transport can be a challenge, although the 4/6 trams and more & more buses are that operate on the most important route can be accessed by wheelchairs.
Water
Tap water is safe for drinking. Mineral water, which many Hungarians prefer to tap water, is called ásványvíz. Purified bottled water has pink labels for identification.
When to Go
Spring and autumn are the best times to visit Budapest, as temperatures are fairly mild. Like most Central European capitals, the summer months get very busy, and finding a hotel room can be difficult. Summer can also be stiflingly hot. Christmas, however, is a delight, and almost always white, though it can get very cold.