The Budapest restaurant scene has been hard hit by the global crisis, in addition to the Hungarian downturn in the economy. The former means less tourism creating a "now you see it, now you don't" situation with some restaurants lasting only 3 months before throwing in the frying pan. Here today, gone tomorrow.
Of course, the best part of travel is sampling the culture's cuisine; ample opportunities await to choose either traditional or nouveau Hungarian recipes from these listings. There is a diverse range of restaurants, including some traditional eateries that have negotiated the economic tides over time. Many ethnic restaurants are listed for those who feel the national cuisine has been adequately sampled.
For a list of snacks and meals that should not be missed in this gastronomic culture, see post "Hungarian Eats & Treats," for suggestions. At times you may want to nibble, not wanting a full meal; for this reason, we've also included snack places for a quickie bite.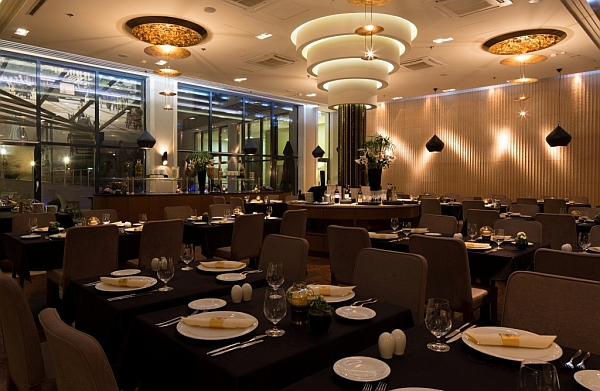 Most restaurant kitchens close an hour earlier than the posted closing hours of the restaurant, but if a restaurant is open until or past midnight, the kitchen will be closed by 11:00pm. Exceptions are rare.
Something fish-less is going on here: Do take into consideration when ordering fish that this is a landlocked country. Unless it is fish that has come from one of Hungary's rivers or lakes, it is imported and was most likely frozen for shipment. If this is of importance to you, you should question your waiter before ordering. One Hungarian national dish is a particular fish soup, which is also part of the traditional Christmas meal. Most famous among these soup recipes are those of Szeged where fish from the Tisza River are used to prepare it. If you enjoy fish, you will find this item on many traditional restaurant menus.
Food Warning and Allergies: This time around, we have been pleasantly shocked at how many dishes, regardless of the main meat, have bacon stuck in there somewhere when the menu did not offer a clue. I love pork of all sorts, but for people with religious restrictions and even vegetarians, you should question the server before placing your order.
An ever-increasing number of people suffer from food allergies, especially the ubiquitous peanut allergy, so for those of you who do, you should keep the following phrase handy when dining. It is purposefully dramatic, since wait staff give little credence to other phrases. Ha bármi mogyorósat eszek, meghalok. "If I eat anything with nuts in it I will die."
Where to eat in Budapest
There are many words used for eateries; few have clear-cut boundaries. "Étterem" is the most common Hungarian word for restaurant and is applied to everything from cafeteria-style eateries to first-class restaurants. A vendéglő, an inn or guesthouse, is a smaller, more intimate restaurant, often with a Hungarian folk motif; a csárda is a countryside vendéglő (often built on major motorways and frequently found around Lake Balaton and other holiday areas). An önkiszolgáló indicates a self-service cafeteria. Büfés (snack counters) are not to be confused with buffets in English. They are found all over the city, including transportation hubs. A cukrászda is a bakery for pastries and a coffee, while a kávéház is a coffeehouse that generally has a limited selection of pastries. Traditionally, many coffeehouses are places to sit for hours to meet with friends, read a book, or just sit and people-watch. Today, some establishments use the word kávéház in their name, but really are restaurants providing full meals. You will be able to tell the difference if you scope out the menus.
Other establishments you will come across in your travels are those whose primary function is to serve liquor, but some also serve meals or snacks. A borozó is a wine bar; these are downstairs off the street (they are likely to include the word pince (cellar) or barlang (cave) in their name), and generally feature a house wine. A söröző is a beer bar; these places, too, are often found in downstairs locations. Sandwiches are usually available in borozós and sörözős. Some are excellent places, while others are dives where cheap drinks are served to the less economically advantaged.
Music
Live Gypsy music is often touted in traditional Hungarian restaurants as a tourist marketing tool. Most often, this is not authentic Gypsy music but a fair imitation for the unbeknownst traveler who can say they heard Gypsy music. One exception is the Mátyás Pince. Chances are a member, or the whole band, will rotate playing a song or two at your table. If you feel uncomfortable or this is disrupting your conversation, politely decline his or her offer to play for you as soon as they approach your table. If, however, you allow them to play, then you have committed yourself to giving them a tip. The appropriate amount varies whether it is one person or more and the price category of the restaurant itself. Giving 1,500 Ft to 2,000 Ft is an example for a single musician.
With the shifting economy over the last couple of years, we have not ducked out from beefing up the budget dining options for when you really want to pork out, but not risk having your bank account go out on the lamb. All jesting aside, I have added more budget food options in this edition.
Price categories
For the purposes of this Budapest Guide, we have classified restaurants as follows: A restaurant is inexpensive if the average main dish is $10 or under; moderate, between EUR 10 and EUR 20; expensive, between EUR 20 and EUR 30; and very expensive, EUR 30 and over. Bargain meals are becoming a thing of the past, but a few still exist. Living here, basically living on a Hungarian salary, watching the cost of dining out soar has been inhibiting. However, guests from urban areas with more expensive restaurant meals generally find some menus more reasonable than we do. For this reason, we have tried to provide a wide range of choices to fit any mood and budget. One day you may feel like splurging on a top restaurant, but other days you may want something more moderate.
Credit cards are still not as ingrained in all businesses as they are elsewhere, so check with a restaurant if you need to use a credit card. Don't hesitate to go in and ask to see a menu before you decide to stay.
For eating on a budget, almost all restaurants now have a day menu or weekly special menu for lunchtime meals around 800 Ft, usually available until 4pm. Sometimes other dinner special offerings are posted either outside or on an inner wall, not appearing on the menu. Ask your waiter about specials and the cost before ordering, to avoid any embarrassment. If a restaurant doesn't list drinks on the menu, which is rare, feel free to inquire about the price before deciding. Cocktails are extremely costly, while wine and beer are reasonable.
Warning
The U.S. Embassy provides a list of restaurants that engage in unethical business practices, such as excessive billing, using physical intimidation to compel payment of excessive bills, and assaulting customers for nonpayment of excessive bills. However, it states that this list is not comprehensive. At all costs, you should avoid these establishments.
If a woman approaches you and asks for directions, but then asks you to buy her a drink, red flags should shoot into the air.
The embassy cannot offer too much assistance in these situations due to Hungarian laws that are ineffective. Buyer beware.
You can always check the U.S. embassy website for updated information: visit http://hungary.usembassy.gov/tourist_advisory.html.
Hints for a Better Dining Experience in Budapest.