The tourism infrastructure in Budapest has developed extensively over the years with strong support from the Ministry of Tourism. There are many high-quality hotels and restaurants; and it seems new ones are appearing every few months.
Lodging rates in Budapest have risen considerably, becoming more comparable to the rates of other European capitals. With that said, hotel occupancy has been decreasing over the last few years and dramatically in 2011. Reports have shown that many hotels are fewer than 50% occupancy during some peak periods, so deals can be had if you are a savvy Internet bargain hunter. After doing your research, compare the rates you have found with the hotel's website to look for specials. Don't stop until you try e-mailing the hotel directly to see if there are any unadvertised specials or discounts they are willing to offer.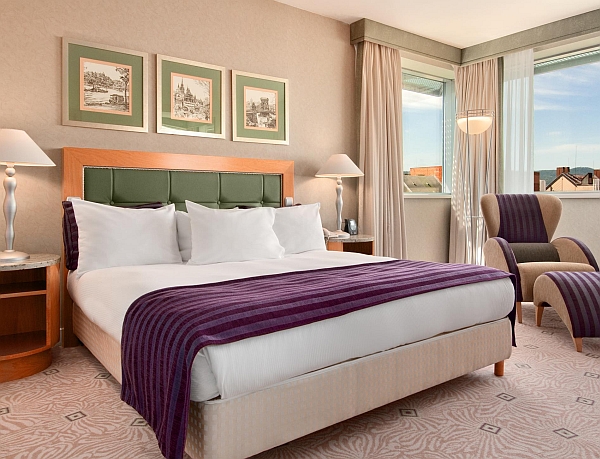 In the past, during the high season from April or May to the end of September, it was difficult to get your first choice of a room in your first choice of hotel, but this has eased over the last few years. However, if you wait for the last minute to book, it could still hold true. During the Hungarian Formula One weekend or the Sziget Festival, it can be quite difficult to secure a hotel or pension room or even a hostel bed, so make reservations and get written confirmation well in advance of your stay.
You may find cheap accommodations in Budapest here.
Budget lodgings
There are a number of recommendable budget accommodations in Budapest. Travelers have the advantage of choosing from a wealth of perfectly acceptable options. Small pensions sometimes called panziós, self-catering apartments, and a number of good youth hostels make the city inviting to travelers on any budget.
Remember the realtor phrase: location, location, location. The location of your accommodations is a significant factor in cost. Normally, one can expect to pay more for the location, the history, and the reputation of a place; being in the center of the city will inflate the cost. Returning late in the evening to some parts of the city can be trickier than in the past. Question the transportation options carefully. There is nothing worse than having to end a pleasant evening early just to catch the last transport back to your hotel. Remember, time is precious and you don't want to spend too much of it on public transport.
Accommodations agencies
Accommodations agencies generally hesitate recommending a private accommodation for most people, because of potential language barriers. Hungarian is so different a language that travelers may feel isolated if they book with non-English-speaking families. However, if you are feeling brave and want to try this option, the most-established accommodations agency is the former state-owned travel agent Ibusz. The main Ibusz reservations office is at Ferenciek tere 10. ( 00 36 1 501-4911; www.ibusz.hu), accessible by the Blue metro line. This office is open year-round Monday through Friday 9am to 6pm.
Seasons
Many, but not all hotels and pensions in Budapest, divide the year into three seasons. High season is roughly from March or April through September or October. Easter week and the period of the Budapest Spring Festival (mid- to late March) are also considered high season by some hotels. Special season includes the weekend of the Hungarian Formula One, and New Year's Eve. A few places consider Easter part of this season also, but it seems fewer than in the past. Low season is roughly November through February, with the exceptions above. Some hotels discount as much as 30% in low season, while others offer no specified winter discounts, yet with occupancy rates at an incredible low they do sneak in web specials, so be sure to inquire.
Price categories
The majority of hotels and pensions in Budapest list their prices in euros, so the rates are listed on this website as the hotel designates. Listing rates in euros is not just intended as a means of transition to the E.U. currency, it is also a hedge against forint inflation (though the forint has had significant highs and lows over the past few years). All hotels in Budapest accept payment in Hungarian forints as well as in foreign currencies, but their rates will be much more to their advantage than yours.
If paying with a currency other than Hungarian forints or euros, exchange your currency on the street at authorized booths and then pay the hotel. Exchange rates fluctuate daily, of course, so the price of a room in euro-to-forint and other currencies will change accordingly.
All hotels are required to charge a whopping 18% value-added tax (VAT), an increase instituted in July 2009. Most build the tax into their rates, while a few tack it on top of their rates. When booking a room, ask whether the VAT is included in the quoted price. Unless otherwise indicated, prices in this book include the VAT.
Hotels in Hungary are rated by the international five-star system. In our view, however, the ratings are somewhat arbitrary and are not included in our entries for that reason.
Note: We have discovered that just about every accommodation has some Internet specials or packages on its website. Just like the airlines, hotels continually gauge their occupancy and change rates according to room availability; but they all say that the early bird gets the biggest discount.
We have found that smaller hotel and pension websites are not frequently updated with respect to rates. If they don't have online booking capabilities, make sure to call or e-mail them to confirm rates. If you can book online, the rates should be current and accurate.