Name: National Opera House
Category: Architecture, castles and historic districts
Location: 1061 Budapest, Andrássy út 22.
Internet: http://www.opera.hu
Description
The neo-Renaissance Opera designed by Miklós Ybl and opened in 1884 is so attractive that those with the slightest desire to sit through a performance will definitely want to experience the allure of the historical stage. Though the auditorium of the opera with the third best acoustics in Europe can seat 1300 people, you might want to hurry with the reservation if you want to enjoy one of the performances of various genres. If you'd rather skip this, you can also opt for a tourist ticket for an afternoon tour.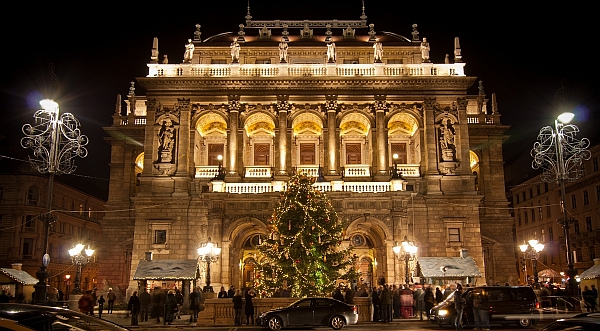 The Opera is the Hungarian apex of classical music, where you can enjoy art in a highly exclusive environment. Whether it's ballet or opera, the repertoire is just as serious as the genres themselves. Since you're there, have a glass of delicious champagne on the balcony.
The Hungarian National Opera is one of the most prestigious opera houses in Europe. On each side of the main entrance, two niches hold the statues of Franz Liszt and Ferenc Erkel, great Hungarian composers. The inside is sumptuous : the main stairway, the foyer, the corridor for smokers, the main hall (fresco by Károly Lotz on the ceiling), the protocol room, the royal staircase are all resplendent with, frescos, paintings and marbles.
Admire the the neo-Renaissance exterior of the building. If you like opera try to book your tickets for an evening performance
Good to know about National Opera House
The Hungarian State Opera House has the 3rd best quality of acoustics in Europe after La Scala (Milan) and Palais Garnier (Paris)
It is considered to be the masterwork of Miklós Ybl, the leading 19th c. Hungarian architect.
The Opera opened in 1884 The neo-Renaissance exterior hides an opulent neo-Classical interiour decorated with works of leading Hungarian artists of the time such as Gyula Benczúr and Bertalan Székely
In front of the building you find the sculptures of Ferenc Erkel, composer of the Hungarian national anthem, and Ferenc Liszt, the best known Hungarian composer
The auditorium holds 1261 seats
Did you like National Opera House? Please share your opinion below or rate it at the top!
Have you got any Budapest or National Opera House related question? Please have a look at our Questions & Answers section!
Take a look at the Menu "Attractions" to see what other tourist sights are around.
National Opera House on the map
Click for Google Route Planner here.
Share this article with others
There is an easy way how to link to our Budapest guide & maps about National Opera House, ready to use on your website. Simply copy & paste the HTML code below into your page source code. Thank you for all links to Budapest travel guide!