Name: Liszt Ferenc Emlékmúzeum
Category: Museums and art
Location: 1064 Budapest, Vörösmarty utca 35.
Internet: http://www.lisztmuseum.hu
Description
Everything here is about Liszt. The building on the corner of Vörösmarty Street and Andrássy Avenue accomodates the Liszt Ferenc Research Centre (Liszt Ferenc Kutatóközpont) and Research Library of Musical History on its ground floor, the Memorial Museum on its first floor and the deservedly famous concert hall one floor above. Twist 'n' Liszt.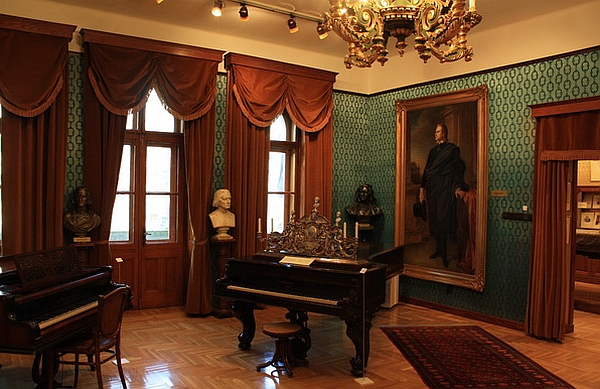 Three rooms make up the apartment that Franz Liszt lived in for the last five years of his life, when he regularly came to spend the Winter in Budapest. The bedroom was also used as an office. On the desk and in the wardrobe, several personal objects still remain... On a small table, a cast in bronze of his right hand made by by Alajos Stróbl. In the lounge, the Bösendorfer piano, the artist's favourite instrument.
Did you like Liszt Ferenc Emlékmúzeum? Please share your opinion below or rate it at the top!
Have you got any Budapest or Liszt Ferenc Emlékmúzeum related question? Please have a look at our Questions & Answers section!
Take a look at the Menu "Attractions" to see what other tourist sights are around.
Liszt Ferenc Emlékmúzeum on the map
Click for Google Route Planner here.
Share this article with others
There is an easy way how to link to our Budapest guide & maps about Liszt Ferenc Emlékmúzeum, ready to use on your website. Simply copy & paste the HTML code below into your page source code. Thank you for all links to Budapest travel guide!