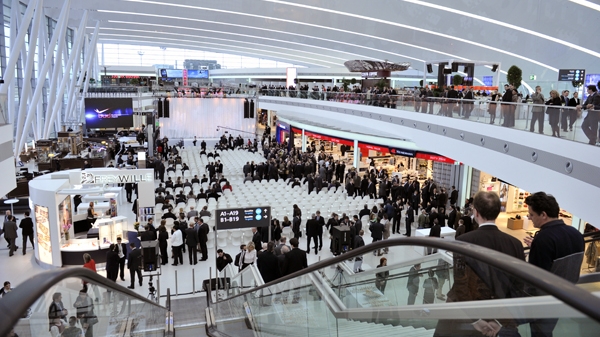 Budapest is an extremely popular city-break destination, with a growing number of operators offering trips; it's also included on some two- or three-centre itineraries, usually combined with Prague and Vienna. Several airlines fly to Budapest from airports in the UK and Ireland, and there are also nonstop flights from the US and Canada. Travelling overland from the UK takes around a day by train, or a day and a half by bus.
Other than the airport, all points of arrival are fairly central; most are within walking distance or just a few stops by metro from downtown Pest. Our accommodation-booking service may help you to find rooms at the airport and the Keleti train station.
Budapest's excellent public transport system ensures that few parts of the city are more than thirty-minutes' journey from the centre; many places can be reached in half that time. Three of the four metro lines and three main roads of the city meet at the major junction of Deák tér in Pest, making this the main transport hub of the city (transport map).
Getting to Budapest by plane
Previously Budapest served by two adjacent airports, Liszt Ferenc Repülőtér 1-2 Terminal, (Ferihegy 1 and Ferihegy 2), both located in the XVII district in southeastern Pest. Ferihegy 1 is closed in the last 2 years, while Terminal 2 (which has a Terminal A and a Terminal B) serves all airlines.
The distance between the Ferihegy 2 terminals is about 1 block, so there is no need to be concerned if you arrive at the airport for your flight and are at the wrong terminal.
With Hungary's entry into the Schengen zone, terminal 2A is exclusively used for flights to Schengen countries, so you will pass through security, but not Passport Control. All other flights will depart from 2B and have Passport Control.
There are several main information numbers for the airport: for information, call 00 36 1 296-9696; and for general information, call 00 36 1 296-7000.
For ease of language, use the airports English version website at www.bud.hu/english for flight information. The airport code for Budapest is BUD.
A new airport called FlyBalaton opened and closed in the Balaton region town of Sármellék. The airport code is SOB; however, when Ryanair pulled it from its schedule, Lufthansa's weekend-only services from Hamburg International were not enough to keep the airport open. At this writing, the airport will be closed indefinitely, but for updated information, you should call the Keszthely Tourist Travel Agency 00 36 83 354-256.
There is no domestic air service in Hungary.
Arriving passengers at either airport need to pass through Customs and Passport Control, when appropriate, before they emerge into the bustling arrivals halls of the respective airports.
Liszt Ferenc Repülőtér - Terminal 1 (Ferihegy 1) was remodeled and enlarged just a few years ago and a bit later closed for an indefinite period.
Liszt Ferenc Repülőtér - Terminal 2 (Ferihegy 2) is larger, but still not overwhelming - you shouldn't have any fears of getting lost in it like some other major airports like Amsterdam or Frankfurt.
In each airport, you'll find accommodations offices, rental-car agencies, shops, exchange booths, plus a Tourinform desk.
Exchange rates are much less favorable in airports than in the city, so rather than change money, take it out of the ATM. Even with bank fees, you'll come out ahead in the end. Often, people become confused and anxious with currency in thousands, so to avoid surprises or unnecessary ATM fees, do yourself a favor and print out a currency cheat sheet before leaving home from www.oanda.com/ convert/cheatsheet.
Getting into Budapest from the Airport
You have four general choices to get from or back to the airport depending on your time and budget. Although in the past airport taxis were notorious for scamming tourists, the airport authority took steps to correct this situation.
Taxi
The airport exclusively contracts with Főtaxi services (+36 1 222 2 222), making this the official taxi service of both Budapest airports. The fares are government regulated per km / cab, not per person. By law, all taxis must give you a paper receipt for your fare. If you know of another taxi company and prefer them, you will need to call them. The unauthorized taxi stand pick-up area is away from the general taxi area, but there are signs in English. It is adwised not expose yourself by traveling with an unofficial taxi / driver; all licenced taxis are yellow coloured.
Airport Shuttle
Airport Shuttle (00 36 1 296-8555; www.airportshuttle.hu/en/) is a public service owned and operated by the Budapest Airport Authority. There is a clearly visible kiosk for the shuttle in each terminal. If you know you will use this service to return to the airport, a round-trip ticket is less expensive than two one-way tickets. A round-trip fare is about 4,990 Ft per person and one way is 2,880 Ft per person. For two traveling together, there is a discount: for one-way, it is 4,490 Ft for two and 8,490 Ft for a round trip.
Depending on the number of people, you may find the taxi service to be less expensive. When you purchase your tickets for the shuttle, you'll be asked which district you are going to since many districts have streets with the same name. Once a minibus is sufficiently full, the driver will call out your destination, direct you to the vehicle and load your luggage. This can take anywhere from 10 minutes to as much as 1 hour, depending on how busy it is at any given time of day.
The shuttle takes you directly to the door of any address in the city. The trip takes from 30 minutes to an hour, depending on traffic and how many stops are made. To arrange your return to the airport from where you are staying, call the number above 24 hours in advance, but absolutely not less than 12 hours in advance. The shuttle office is open from 6am to 10pm, but be warned that you may have to wait on hold for some time and may possibly get disconnected in the process. The shuttle will pick up passengers virtually anywhere in the Budapest area from their front door. You will be given a 10-minute time frame for when the shuttle will arrive to pick you up, based on your flight departure. You will be asked to wait outside the door during this 10-minute period to facilitate the pick-up process.
Public transportation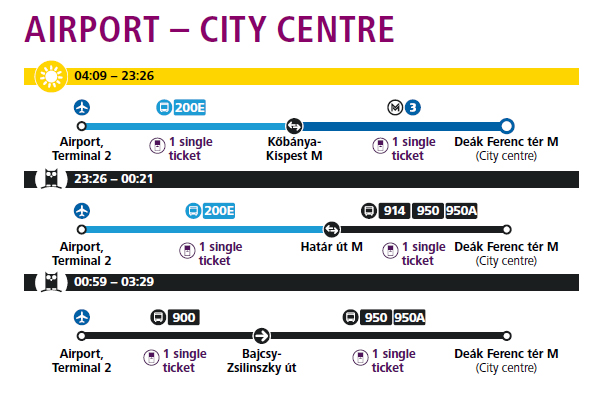 There are also two public transportation options with the trip taking about 1 hour total on either. Two buses leave the airport for the metro. From Terminal 2, you will take bus No. 200E to the last stop, Kőbánya-Kispest. From there, the Blue metro line (Underground line 3) runs to the Inner City of Pest. The cost is two transit tickets, which is 540 Ft for both; tickets can be bought from the automated vending machine at the bus stop (coins only) or from any newsstand in the airport. From Terminal 1 (closed at this period), take bus No. 93 or 200E to the same metro stop as mentioned above.
After using the highway overpass, stand on the tracks and wait for the train. Take note that there is no station at the airport, but just a siding where the train stops. You must buy the 300 Ft ticket for a one-way journey at the airport. Purchasing a ticket on the train could result in a hefty fine. There are more than 30 trains daily. If you arrive at Liszt Ferenc Repülőtér - Terminal 2, take bus 200E to Liszt Ferenc Repülőtér - Terminal 1 in order to catch the train.Plans to extend the train tracks to the second airport still have not happened.
By Train
Trains arrive regularly from Vienna, Bratislava, and other European cities either as a destination or as a train passing through for somewhere else. It will depend on where your journey began as to which of the three stations you arrive at. In order to curb fare dodging, some of the tracks are barricaded by inspectors who will want to see your ticket when leaving a train as well as boarding it. Don't toss your tickets until you leave the station.
By Boat
There are a number of cruise ships on the Danube route making Budapest a stopover or final destination. For those not on a cruise ship, there are hydrofoils that transport passengers between Vienna or Bratislava and Budapest as well as smaller towns within Hungary. For information and schedules in English see www.mahartpassnave.hu after clicking on the British flag.
By Car
Once you arrive in the city, you'll want to either park your car or return it to the rental agency. Driving in the city is hazardous to one's health as there are not as many stop signs as needed. There are many oneway streets, and restrictions on making turns onto major roads, so you'll have to find the right place where you can turn around in order to head in the direction you want.
Getting around by train
The Hungarian railroad system has a website with an English link at www.mav-start.hu. To change to English, look at the top left corner. Another site is more informational, but also has no English link at www.mav.hu.Budapest has three main train stations. Pályaudvar meaning station is usually abbreviated as pu. Déli pu. located in district I is the smallest of the three and the only one on the Buda side. Its reachable by Metro 2 (Red line). Of the three stations, it is the farthest distance from downtown Pest - by metro, it would take about 15 minutes to reach it. Keleti pu., the largest of the three, is in district VIII and also on the Metro 2 (Red line) and is only one metro stop or two bus stops on the 5 or 7 bus to reach the center of Pest. Nyugati pu. in district VI was built by the Eiffel Company and sits on the Metro 3 line (Blue). It is on the major ring road, so it is in downtown Pest. Trains from the airport arrive at this station. The trip is 30 minutes.Within Hungary, Eger, Szeged, and Siófok are a manageable 2 to 2,5 hours. Sopron and Pécs are 3 hours away. To travel to Budapest from Vienna will take 3 hours or Bratislava, Slovakia is 2,5 hours away.
By Bus
Just like the train stations, Budapest has multiple bus stations as well. Some national and most international destinations arrive or leave from Népliget bus station (00 36 1 219-8080) on the Metro 3 line (Blue: Népliget). Information available 6am-8pm. Other domestic buses will pull into and leave from the Árpád híd bus station (00 36 1 329-1450). The information office is open 7am-4pm daily. This is also serviced by Metro 3 (Blue line: Árpád hid).
If you plan to travel domestically by bus, your only option is Volánbusz (00 36 1 382-0888; www.volanbusz.hu). Volánbusz also offers international travel in cooperation with Eurolines bus company. For international travel alternatives check out the newer company OrangeWays Bus (00 36 30-830-9696 mobile phone only; www.orangeways.com). They have new buses, inexpensive fares and provide a number of onboard services. Both companies allow you to book your tickets online if you have access to a printer.
By Car
To rent a car the driver must be 21 years old with no upper age limit. Only the renter is the authorized driver. The drivers license must be at least 1 year old. Some agencies require an international drivers license, so check their website for rules and regulations. Some agencies will require you take their insurance coverage even if youre covered by your credit card company.
You are legally required to carry your passport and your driving license at all times. In addition you must be able to produce your car documents and insurance green card (which is proof of your international insurance) when asked to do so by a police officer. Failure to produce those documents, even if you have them at your hotel, results in an on-the-spot fine. When leaving your car you should also take your car registration documents with you.
Renters should note that insurance and VAT taxes are almost never included in quoted rental car rates, so be sure to pay attention when doing an online booking or ask at the rental agency about additional fees. They can add a significant cost to your car rental as insurance is charged per day. Crossing borders within the E.U. is normally sanctioned with car rentals, but some still have restrictions for Romania and Bulgaria. It is best to check if you plan on leaving the country to see if a special permit is required.
All motorways are marked with a letter M and international roads with the letter E. Motorways are gradually spreading throughout the country but the main ones are:
MO the ring road round Budapest
Ml Budapest-Hegyeshalom / country border
M2 Budapest - Vác
M3 Budapest-Gyöngyös-Miskolc-Debrecen / Nyíregyháza
M5 Budapest-Szeged / country border
M6 Érd-Pécs
M7 Budapest-Nagykanizsa / country border
It is necessary to buy a Motorway Permit before you enter a motorway. There are many garages that display a sign saying that they sell Motorway Permits. You will receive a receipt, which you have to sign and it shows your car registration number. It is very important to retain this receipt for at least 3 months after using the motorways just in case the garage has put the wrong registration number down.
The system of checking car registration number plates is very efficient on Hungarian motorways. Fines are expensive (even for foreign visitors) and you may not know you have a problem for several weeks after returning the vehicle. Rental companies will not become involved with any dispute you may have with motorway authorities.
In the unfortunate event of a breakdown on the motorway, it is of utmost importance that all of the car's occupants move out to wait on the bank of the motorway. There have been a number of accidents where people have been killed while waiting in the car. You are also required to display a warning triangle (found in the back of the car) approximately 20m (65 ft) from the car. The driver and passengers are also required to wear the luminous yellow jackets that are also provided.
If you do not have a mobile phone there is usually an emergency phone within a kilometer either way.
Be wary of parking within cities. It is best to find a parking garage or lot. Street parking is often time-limited and they love to put the metal clamps on the wheels to prevent you from leaving.
Most destinations within Hungary can be reached within 2 to 3 hours by car. Vienna or Bratislava are about 3 hours each. The number for the Hungarian Automobile Club is 188.