Name: Fishermen's Bastion
Category: Architecture, castles and historic districts
Location: 1014 Budapest, Hunyadi János út.
Description
This set of ramparts and turrets (finished in 1906) calls to mind a castle right out of a fairytale. The seven turrets symbolise the seven Magyar tribes and each tribal leader is represented by a statue. The bastion offers the visitor beautiful views over the Danube and Pest. The statue of Saint Stephen, the first king of Hungary, stands in front of the bastion. Note the attributes given to the four evangelists: Matthew, the man, Luke, the ox, John, the eagle and Mark, the lion.
Tipp: The lower deck and some parts of the upper one are accessible free of charge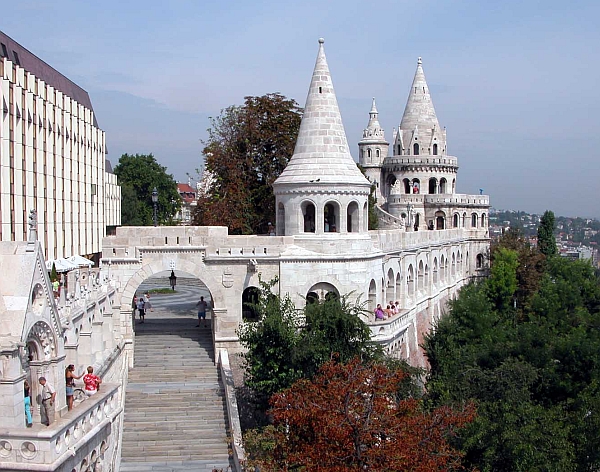 Good to know about Fishermen's Bastion
Fisherman's Bastion (Halászbástya) is a fairytale like viewing terrace on the Castle Hill
It offers stunning views of Budapest especially of the Danube and the Hungarian Parliament
The bastion was built between 1895 and 1902 in neo-Gothic and neo-Romanesque style
The seven towers represent the seven Hungarian leaders and their tribes that conqured the Carpathian Basin and settled down here in 896
The Bastion got its name after the fishermen's guild that was responsible for defending this part of the city walls in the Middle Ages
The bronze statue in front of the bastion shows St. Stephen I, Hungary's first king, on horse back. The base of the statue illustrates important episodes of the king's life
If you are fancy having a coffee while enjoying the incredible view we recommend visiting the small terrace café on the upper deck.
Did you like Fishermen's Bastion? Please share your opinion below or rate it at the top!
Have you got any Budapest or Fishermen's Bastion related question? Please have a look at our Questions & Answers section!
Take a look at the Menu "Attractions" to see what other tourist sights are around.
Fishermen's Bastion on the map
Click for Google Route Planner here.
Share this article with others
There is an easy way how to link to our Budapest guide & maps about Fishermen's Bastion, ready to use on your website. Simply copy & paste the HTML code below into your page source code. Thank you for all links to Budapest travel guide!