Name: Great synagogue in Dohány street
Category: Religious buildings
Location: 1077 Budapest, Dohány utca 2.
Description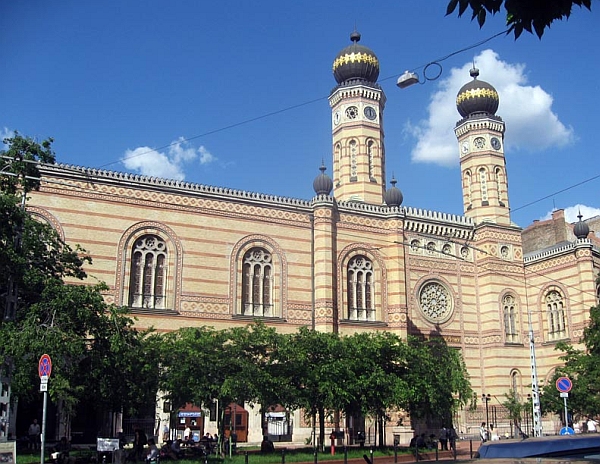 The largest synagogue in Europe was built between 1854 and 1859 following plans by Ludwig Förster. With Byzantine-Moorish inspiration, it is a beautiful building made of coloured brick, topped with two towers with onion-shaped domes. On the inside, look out for the two floors of galleries in wood, the two chandeliers, the wealth of the decoration on the ribbed ceiling and the arch of alliance to which your stare settles as soon as you come in through the door.
Good to know about the Great Synagogue
The Great Synagogue of Budapest is the largest synagogue in Europe and the second largest in the world (after New York); it can hold 3000 people
It was built between 1854 and 1859 in Moorish style but it also features a mix of Byzantine, Romantic and Gothic elements. It has a suitably lavish interior
Its style and form, especially the onion domes of the twin towers, much influenced synagogues' design internationally
The complex also includes the Hungarian Jewish Museum, a graveyard, and a Holocaust Monument, a metallic weeping willow with the names of those died in the Holocaust
The Jewish Museum, opened in 1931, stands on the site of the birth house of Tivadar Herzl, father of modern Zionism and mastermind of the independent Jewish State
In World War II, it was the center part of the Jewish ghetto. It suffered severe damages in the period, especially in the siege of Budapest
During Communism the ruined building became a praying place for the remainding Jewish populaton. The synagogue was reconstructed between 1991 and 1998
Did you like Great synagogue in Dohány street? Please share your opinion below or rate it at the top!
Have you got any Budapest or Great synagogue in Dohány street related question? Please have a look at our Questions & Answers section!
Take a look at the Menu "Attractions" to see what other tourist sights are around.
Great synagogue in Dohány street on the map
Click for Google Route Planner here.
Share this article with others
There is an easy way how to link to our Budapest guide & maps about Great synagogue in Dohány street, ready to use on your website. Simply copy & paste the HTML code below into your page source code. Thank you for all links to Budapest travel guide!