Budapest taxis fall into two general categories: legitimate and not. All legal, licenced taxis must have yellow car colour. The fare to be paid at the destination consists of three basic parts: the base fee; the kilometer distance fare; and the waiting tariff, which is used if the taxi has had to stop or has to travel slower than 15 km/h (9 mph) in traffic.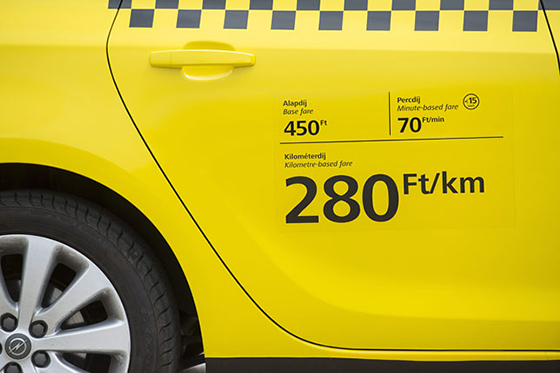 Please note: From 1 September 2013 a new Taxi Decree was introduced in Budapest and regulating the price of the taxis at a fixed tariff of 280 HUF/Km (0.95 EUR/Km) in addition to the one-off basic fee of 450 HUF (1.50 EUR) and waiting fee.
How much a taxi fare cost in Budapest?
Please use the following calculator to estimate your travel cost.
[AB-MAP]
Taxi companies and their phone numbers in Budapest
6×6 Taxi
Budapest Taxi
City Taxi
Főtaxi
MB Elit Taxi
Taxi 2000
Taxi 4
Taxi Plus
Tele 5 Taxi
Városi Taxi