Name: Mathias Church
Category: Religious buildings
Location: 1014 Budapest, Szentháromság tér
Description
The church that can be seen today is the work of Frigyes Schulek. From the outside, you can see the Mathias tower which rises up towards the sky, the Romanesque Béla tower, the main portal with a tympanum showing the Virgin Mary with child and Mary's door, which dates back to Louis I, the Great. The church contains numerous paintings! Do not miss the chapels: St-Ladislas, the Trinity, St-Émeric and Lorette, the baptismal fonts, and the Museum of Sacred Art.
Tips: Do not miss the highlights: Stained-Glass Windows, Altar, Rose windows, Mary Portal, Loreto Chapel and Baroque Madonna, Ecclesiastical Art Museum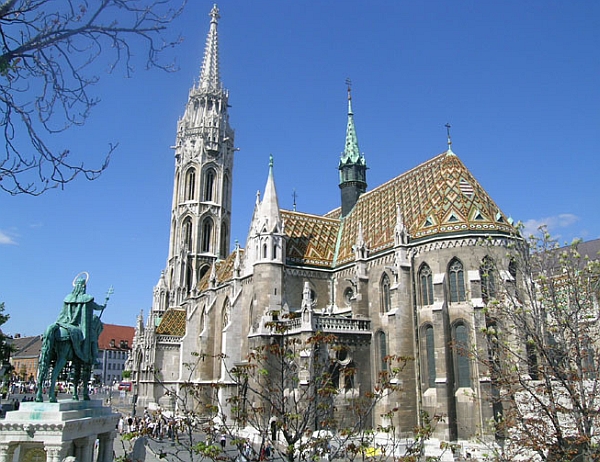 Good to know about Mathias Church
Matthias Church is located in the heart of the Castle District and dates back to 1051 when Hungary's first king, St. Stephen I, built a Romanesque church here
In the 14th century it was transformed into a Gothic church; but it was King Matthias (1458-90) who greatly extened it in the 15th centruy, hence its name
When the Turks ruled Buda (1541-1686), the temple was transferred into the city's main mosque
According to legend, in the siege of 1686 a cannon ball hit one of the walls of the church and a hidden Madonna statue was revealed in front of the praying Turks. The Turks lost the city to the Habsburg forces on the same day
After the Turks left an attempt to restore the church was made. It didn't regain its splendour until Budapest's architectural boom towards the end of the 19th century
Did you like Mathias Church? Please share your opinion below or rate it at the top!
Have you got any Budapest or Mathias Church related question? Please have a look at our Questions & Answers section!
Take a look at the Menu "Attractions" to see what other tourist sights are around.
Mathias Church on the map
Click for Google Route Planner here.
Share this article with others
There is an easy way how to link to our Budapest guide & maps about Mathias Church, ready to use on your website. Simply copy & paste the HTML code below into your page source code. Thank you for all links to Budapest travel guide!