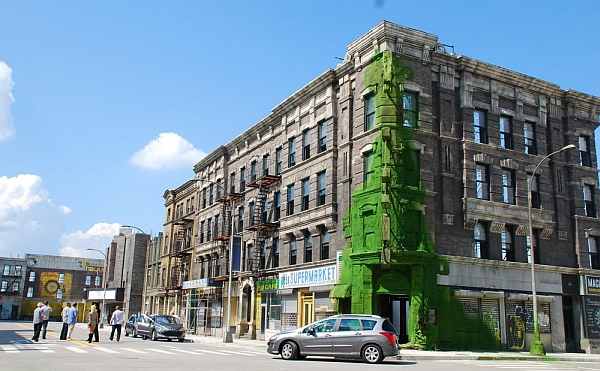 What do Budapest and Hollywood have in common? Okay, close to Budapest then. Just 26km (16 miles) from Budapest, in a village called Etyek with a population of 3,700, the construction is underway to create the Alexander Korda film studio. At an estimated cost of 150 million euros, the word is that this will be Europe's most modern film production center with some prophesying that "Etyekwood" has the potential to become the "Hollywood of Europe."
The majority of the project initiators are Hungarian: producer Andy Vajna, real-estate broker Sándor Demjan, and his now-Canadian business partner Peter Munk are all originally from Hungary. Covering 15 hectares (37 acres), this facility has been designed as the most technically sophisticated international film production to be built yet. Six studios will spread out over 40,000sq. m (430,556 sq. ft). Get the big picture here? Not only will it be the world's largest film studio, but also it will have capabilities for underwater filming.
One often never pays much attention to the ways that the work of an ethnic group adds something to our lives. Although you will not find a plethora of Hungarian movies with English subtitles at your local movie rental outlet, chances are that some Hungarians have been responsible for entertaining you at some point in time.
Here is a brief overview of the Hungarian impact on pop culture.
Wilhelm Fried was born to Jewish parents in Tolcsva, Hungary, but at the age of 9 moved to the U.S. with his parents. His name was changed to William Fox. As an adult he created the Fox Film Corporation in 1915, purchasing the equipment to create the Fox Movie, later becoming Fox Movietone sound-on-film system, commercializing talking movies. His name is still associated with 20th-Century Fox Studios and FOX Network News. Adolph Cukor from Ricse, Hungary was another Jewish immigrant who made film history. Changing his name to Adolf Zukor, he started in the entertainment business by creating a new chain of movie theaters with Marcus Loew. His Famous Players in Famous Plays evolved into Paramount Studios. He introduced the new phenomenon of combining production, distribution, and exhibition all within one company. George Pal, born György Pál Marczincsák from Cegléd, Hungary was an animator in a few countries before landing in the U.S. to work for Paramount Studios, where he is credited for creating 40 Puppetoon films. As a director, producer, and cinematographer he is best remembered (depending on your age) for his science-fiction movies The War of the Worlds (1953), Houdini (1953), Tom Thumb (1958), and The Time Machine (1960), amongst others. He received six Oscars and a special Academy Award.
Ivan Tors from Budapest was a playwright, screenwriter, film and television producer. His more famous television series included Sea Hunt and Flipper. His production company, Ivan Tors Films, did the underwater scenes for the James Bond Thunder-ball movie. Andy Vajna, formerly known as András György Vajna, left his home in Budapest in 1956. He joined up with Mario Kassar to form Carolco Pictures, making movie history with a new cinematic hero, Rambo. Other Carolco projects include Total Recall, Air America, and Jacob's Ladder. Vajna is credited with Die Hard: With a Vengeance, several Terminator movies, Basic Instinct, and a list of others.
Budapest at the movies
If you want to see a bit of Budapest before arriving, you just need to rent the movie Munich (2005). Don't be fooled by those Paris scenes; they were filmed in the Paris of the East, Budapest. The whole area of the Opera House was converted to Paris streets. Locals had to remove their cars, so they could be replaced with French cars with French license plates. Stores and restaurants were refitted with French signs and displays. The old dance school across the street from the Opera House was made into a lighting store with an adjoining café. It was quite confusing when I tried going in for a coffee and was kicked off the "lot." The clue should have been the Paris Metro map that was on display when coming up from the metro station.
Two gripping movies tell the story of the Hungarian Holocaust in very different, yet poignant ways. The 1999 release of Sunshine follows the lives of three generations of Hungarian Jews. Neither allegiance to their country, celebrity as an Olympic fencing star, nor converting to Christianity is enough to save them. Written and directed by István Szabó, the first Hungarian to have won an Oscar.
Based on the book of the same name Fateless (Sorstalanság, the Hungarian title), directed by Hungarian Lajos Koltai, is the story of György Köves, a 14-year-old boy who is removed from a bus by the Nazis while on his way to work in a brickyard. He is sent to Buchenwald and into a life of forced labor.
Most of my Hungarian students and friends tell me they don't like Hungarian movies, yet continually I seem to be getting recommendations of what I must see, when they know it is has been subtitled in English. Hungarian movies tend to be dark, yet there are some with comic relief.
If you dare, watch the movie Kontroll (2003) before you arrive. It is in Hungarian with English subtitles. The entire movie is filmed in the Budapest metro and follows the life of a ticket inspector or controller named Bulcsú. After the film was released in 2003, some people were fearful to use the metro. Although the controllers have mellowed some since, or perhaps because of this movie, this dark dramedy (drama with comedy slipped in 1-9 spots) will entertain and intrigue you, but will leave you with questions unanswered.
A young Hungarian director to keep your eye on is Krisztina Goda. She has two movies worth checking out. Just Sex and Nothing Else is a romantic comedy about Dora, a 30-something woman looking for that elusive love relationship.
Godas second movie, Kaméleon (English title Chameleon) made its way to the Oscars in 2009 as Hungary's choice for Best Foreign Film. In this comedy/drama,
Zsolt Kovács cleans offices for a living. However, by going through the trash, he learns more about the people working there than they ever suspect. Taking on different personas, Zsolt performs the ultimate con job.